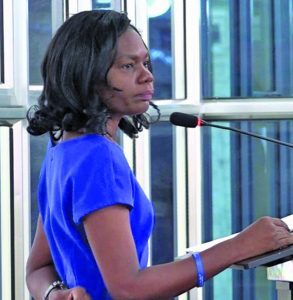 In a surprising series of events, Acting Town Clerk of the Georgetown Mayor and City Council (M&CC) Sharon Harry-Munroe was reportedly sent on administrative leave for reasons unknown.
This was confirmed by a source at the municipality.
Speculations were that this decision surrounded the internal audit into City Hall's financial operations. Documents were required by the Auditor General, but the Council failed on its end to provide the relevant information. As such, the Local Government Commission was advised of the situation.
In addressing the situation, the Town Clerk was reportedly hauled before the Commission to explain why those official papers were yet to be submitted.
When contacted, Mayor Ubraj Narine refused to comment on the matter. Furthermore, the Town Clerk's calls went unanswered.
Back in September 2018, former Town Clerk Royston King was sent on administrative leave, pending a Commission of Inquiry (CoI) that was established to probe activities and records of the Council.
King never returned to his position after the damning findings unearthed gross misconduct and mismanagement.
He was required to appear before the Commission to answer to the findings of the report and was also requested to present dialogue on other matters. However, his refusal to discuss the impeachments which were brought against him triggered a decision on the part of the Commission to dismiss him.
In January, he was fired by the Local Government Commission and his position was handed over to Harry-Munroe, who is one of the individuals labelled as "incompetent" in the final report.
The decision to conduct an audit stemmed from the alarming results of the CoI. Lone Commissioner Retired Justice Cecil Kennard had called for the Audit Office of Guyana to conduct a forensic audit into the entity's management, even as officers are being disciplined.
In July, reports surfaced that a large portion of documents were still outstanding for the audit to be completed.