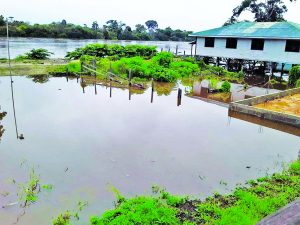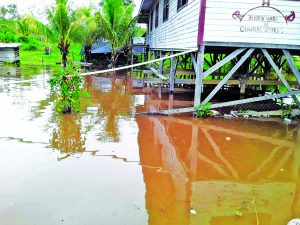 Several sections of Enteringbang, Region Seven (Cuyuni-Mazaruni) are under water following the overtopping of the Cuyuni River. This was confirmed by Regional Chairman Gordon Bradford during a telephone interview with Guyana Times on Thursday evening.
Bradford explained that the situation arose because of the heavy downpours the area has been facing for the past few days. As a result, the water in the Cuyuni River raised beyond the norm, thus, causing water to get onto the land.
He noted, however, that he is in contact with a team on the ground, and has been receiving updates on a regular basis. He noted that there were no reports that homes were flooded or destroyed, but admitted that the water level is quite high.
There has been reports, nevertheless, that one farm in the area was affected as a result of the rise in water. He advised residents to stay alert.
When contacted, Civil Defence Commission (CDC) Chairman Major Kester Craig explained that the Regional Democratic Council reported that one farm was flooded, but there was no immediate threat to homes and businesses.
However, he noted that over the next 24 hours, the RDC and members of the Guyana Defence Force (GDF) will continuously monitor the situation and provide updates.
He added that the Hydromet has forecasted that over the next 24 hours, rainfall is expected to range between 10mm and 15mm mainly across Regions 9 and 8, with other regions expected to experience up to 5mm.
Residents of low-lying areas and those prone to floods are urged to take all necessary precautions to ensure impact is minimised.
All ocean-going vessels are asked to observe and take necessary precautions against waves that may reach heights of approximately 1.5m.
The CDC encourages all residents to remain vigilant and report any instances of flooding to their Operations Centre.
In a post on social media, residents are urged to avoid children playing in the flooded areas.
"Food items and water for drink and cooking purposes must be properly stored in covered containers". In addition, residents are urged to be on the lookout for snakes, rats, and other animals and to report any illnesses immediately.
In May, Mahdia, Region Eight (Potaro-Siparuni), was under water for several hours following a night of heavy rainfall.
It was reported that floodwaters rose as high as four feet in some areas, and even eroded a section of one of the main access roads to the township.
One week after which left at least 25 homes inundated, residents have held miners liable for disrupting the drainage network in the area.
Every time it rains, the water would drain from the hills and exit the land via creeks in the valleys.
However, attributable to mining activities, the creeks are blocked, providing no pathway for the water to recede. As such, this causes an accumulation of water, which affects households in close proximity to creeks.
Residents are certain that if actions are taken to preserve these natural landscapes on a regular basis, the possibility of flooding would decrease.