…patients waiting to be transported to hospital since Sunday
Two trucks belonging to the Guyana Water Incorporated (GWI) have been stuck along a bypass road in Region One (Barima-Waini) since Sunday, obstructing the flow of traffic from entering or leaving several villages and have created some level of unease.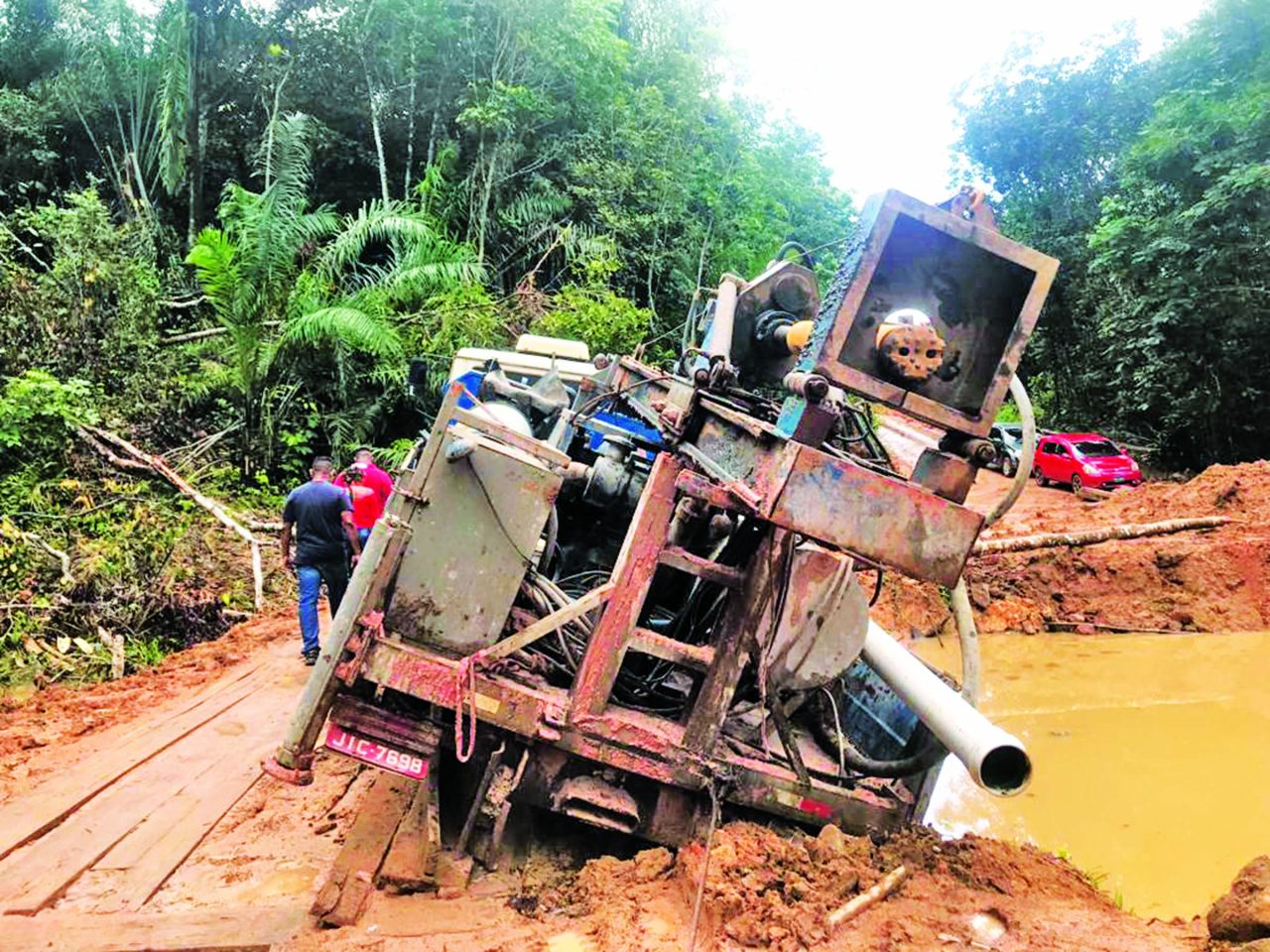 This is according to Regional Chairman Brentnol Ashley, who told Guyana Times on Thursday that the large trucks were contracted to drill a well for one of the villages in Mabaruma – a central point in the region. It has been some five days since the mishap and there has been no relief.
The bypass road was created as a substitute, after the main access bridge was subjected to repairs. It is the only medium by which persons can access the community for services and medical assistance.
"There are two trucks that were contracted by GWI to do drilling for water well in a village called Kamwatta in Mabaruma. Since Sunday, the village has been cut off from having access to transportation coming into the village. The trucks would have fastened on the bypass road that they would have created there because the bridge that is used to enter the village is under construction," Ashley pointed out.
This publication understands that the roadway is primarily composed of loam material— as is common to the hinterland regions.
At the moment, ill patients, including children, have been awaiting clearance of the road to seek medical attention. The Regional Chair insisted that the long distance cannot be footed and exiting by boat is an even longer journey.
"There are many patients in here, especially children, who are suffering from vomiting and diarrhoea and no transportation can come into the village. It's a long distance walking in order to clear where the trucks are fastened. The only other way out is by boat which is also another long distance. The people here are suffering".
Officials from the utility company and regional officials would have promised to clear the path as soon as possible, but there have been no positive results.
"The trucks haven't been moved up to now, which is causing serious hardships to the villages, even though attempts were made to contact GWI and the REO who promised that they would have sorted out the issue," he said.