– as Govt denies allegations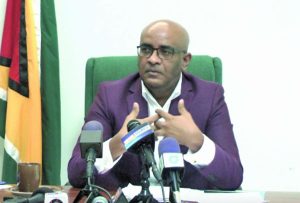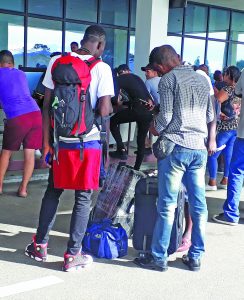 Opposition Leader Bharrat Jagdeo has blasted the coalition Government for turning a blind eye to the human smuggling racket involving thousands of foreign nationals.
At his weekly press conference on Thursday, Jagdeo spoke of the thousands of foreigners who are arriving in the country and little evidence to show that they are leaving.
It was reported that from January 2019 to July 30, 2019, 45,944 Americans arrived in Guyana, along with 2,980 Barbadians, 5,048 Brazilians, 2,548 British nationals, 12,259 Canadians, 1,995 Chinese, 41, 272 Cubans, 679 Indians, 2,900 Surinamese and 11,119 Trinidadians.
In addition, recent reports highlighted that more than 8,000 Haitians alone arrived in Guyana and less than half have left. In fact, figures released by the Winston Felix-headed Department of Citizens under the Ministry of the Presidency earlier this week showed that some 8476 Haitian nationals arrived in Guyana between January and July, but only 1170 have left so far, leaving more than 7000 immigrants unaccounted for.
But, Government has been contending that these persons are just using Guyana as a transit point to move on to other countries.
This was reiterated by President David Granger, who denied during a press briefing on Thursday that there is any smuggling or illegal acts being committed using these foreigners.
"It seems from the analyses— which have been made available to the Government— that many Haitians are heading for a third destination; that they're not interested in staying here and they may want to go to a third country. Again, these are all allegations, but as far as we're concerned, we want to protect the sovereignty and integrity of Guyana. We don't want to be used as a conduit for illegal migration," the Head of State posited.
But while noting that there should be no discrimination or targeting of Haitians, who have the right to come here legally as any other Caribbean citizen, the Opposition Leader stated that the high influx of foreign nationals, particularly the Haitians, is a matter of concern.
"Our problem is not just Haitians. There are others too. People are being exploited; they have to pay to come through here and they're then smuggled out of Guyana in an organised fashion and no sensible Guyanese would think otherwise when you see their operations from the airport. They're met there, chaperoned, taken by buses, and moved to the borders or overnight here (and then moved)," he noted.
According to Jagdeo, with more than 8000 Haitians who came here so far this year alone can amount to over US$40 million in people smuggling. This, he noted, is not just with Haitians, but also the large numbers of Cubans and Venezuelans as well.
Despite this, however, the Opposition Leader said that the Government seems to be turning a blind eye to the issue.