…commits to moving Region forward in its "25 by 2025" vision
Reiterating Guyana's position that it is ready to lead the Caribbean to achieve food security, President Dr Irfaan Ali on Thursday underscored that the region can no longer import what it can already produce.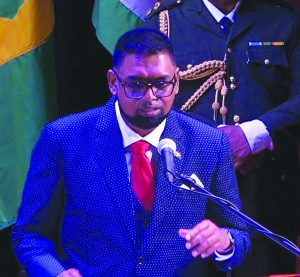 The Guyanese leader, in his address at the opening of the inaugural Agri-Investment Forum and Expo, at the National Cultural Centre on Homestretch Avenue, Georgetown, expressed that the region is ready to move forward in the food production system, as he re-emphasised the need to take action now.
Among dignitaries gathered at the opening ceremony were Prime Minister of Belize, John Brinceno; Prime Minister of Antigua and Barbuda, Gaston Browne; Prime Minister of Barbados, Mia Mottley; Prime Minister of Dominica, Roosevelt Skerrit; Prime Minister of Trinidad, Dr Keith Rowley; Premier of Montserrat, Joseph Farrell; and Deputy Prime Minister of the Bahamas, Isaac Chester Cooper.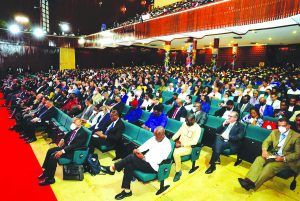 "We, the leaders of Caricom, through this Agri-Investment Forum, must send a strong message. We must correct the imbalance… As a region, we cannot continue the importation of billions of dollars in products that we can produce right here.
"Vision 2025 is looking at investments by countries to collectively reduce these imports by 25 per cent," Ali underlined.
Together, countries within the regional bloc have thrown their support behind an agricultural agenda that would ultimately reduce imports and enable a sense of self-sufficiency. According to Ali, all issues to ensure a smooth and sustainable system are on the table.
"Together, we are ready to move forward in every aspect of the food production system: from production; trading; trade relations; issues of markets, barriers, transport, and logistics. Every single issue is on the table, because we recognise if we cannot address these issues in a collective, multifaceted manner, then we will not be able to bring the long-term solutions," he said.
In dealing with challenges confronting the agricultural sector, Ali pointed towards support from the Private Sector. These extend to financing, logistics, transport, improving agro-processing, and linking markets. He highlighted reports which signalled severe food insecurity increasing by 72 per cent within the last year. Moreover, the costs of key commodities are positioned to rise even further in coming years. By 2022, wheat prices are projected to increase by 40 per cent. Global use of cereal, wheat, corn and soya would increase to three million tonnes by 2030, of which developing countries would account for 90 per cent.
Current inflated costs for food products have been driven by a 100 per cent increase in fertilisers. Caricom has also reported a 17.1 per cent increase in transport expenditure linked to higher charter rates.
In light of this, Ali commented, "The challenge for developing countries and us in Caricom is not only the rise in prices, but the supply. As the vaccination war taught us, our position in the line is definitely not in front."
Guyana currently produces 50,000 metric tonnes of poultry, and there are plans to increase production to 90,000 tonnes by 2025. High-value corn and soya, a new introduction for the country, would be increased from 4,300 metric tonnes to 35,000 metric tonnes. Vegetable production would move from 324,000 tonnes to 400,000 tonnes. A current 560,000 metric tonnes of rice would increase to 847,000 metric tonnes during the projected time.
Guyana carries a food import bill of US$30 million, but investments into increased production and diversified crops are geared at reducing these importations. Over $100 million has been invested in aquaculture for brackish water shrimp-rearing, and another $150 million will be injected to boost this production by 50 per cent.
Meanwhile, research to determine the viability of wheat production in Guyana has been remarkably successful. There have been investments in other projects, such as the shade house initiative and the black-belly sheep project.
The Guyanese Head of State related that the overarching strategy of leaders should be aimed at streamlining procedures for exports and imports; a time commitment for the removal of barriers; developing a precarious system for the export of goods, so as to reduce bureaucracy and spoilage; standardisation of certification process; technical support in developing business proposals for farmers; incentivised agricultural lands for financial institutions; greater involvement of youth and women in the production chain, among other things.
"This tells the story that we have the ability and we have the know-how to do this," the President told his regional counterparts.