…current trade restrictions imposed by some countries have negative impact – PM Mottley
In the true sense of establishing a regional apparatus that allows for free trade among Member States, leaders within the Caribbean Community (Caricom) have raised their voices to put an end to these barriers.
On the frontline of these calls is Barbadian Prime Minister Mia Mottley as she addressed regional leaders during the Agri-Investment Forum and Expo that is currently taking place in Guyana . With countries exploring plans to provide and deliver food within the Region, Mottley noted that current trade restrictions imposed by some countries would have a negative impact.
"We need to accelerate our advocacy to remove the international trade barriers that have so strangled us. We cannot expect our farmers to produce for us only in a crisis. They have to be able to produce all year round or we face the corpocracy of the world that continues to allow the most powerful countries to subsidise domestic agriculture while the rest of us literally have to play by rules that do not allow us to support our farmers when they most need it," Mottley vocalised.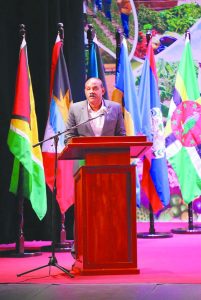 She added, "We have a responsibility to take preemptive action in this Region to protect our people…A crisis like no other is before us…There has to be a change in mindset."
Sharing similar sentiments on the barriers was Antigua and Barbuda Prime Minister Gaston Browne, who asked fellow leaders to create linkages for goods and services.
"We must also resolve to act urgently now with interest, including by honouring the terms of the Caricom treaty and not committing breaches. Countries, from time to time, impose these illegal non-tariff barriers on goods, particularly products from other Member States… The goods must reach the consumers in a way that is safe and affordable. It is up to us to work with farmers, retailers, distributors, and transporters to bring this puzzle together," PM Browne asserted in his address.
Trinidad and Tobago Prime Minister, Dr Keith Rowley is currently in Guyana and met with President Dr Irfaan Ali and some of his Cabinet Ministers. However, sections of the Private Sector called on Guyana's Government this week not to sign any agreement with the twin-island republic until certain trade barriers are removed.
The Georgetown Chamber of Commerce and Industry (GCCI) noted its awareness of the Government's intention to establish and sign a Memorandum of Understanding (MoU) with the T&T Government that would target the areas of agriculture, energy, and national security. The Chamber has expressed its objection to such a move and has urged the Guyanese authorities not to sign any such document until the removal of non-tariff barriers, or NTBs, which are trade restrictions put in place by countries to protect their own local industries.
This position by the GCCI comes months after widespread public outrage erupted among Guyanese Private Sector stakeholders in January over comments made by the Head of the Caricom Private Sector Organisation (CPSO), who in a leaked email claimed that Guyana's local content law, which makes provisions for Guyanese persons and Guyanese businesses to benefit from the oil and gas sector at specified percentages, violates certain provisions of the Revised Treaty of Chaguaramas.
The issue had also sparked calls for Guyana to consider exiting the Caricom Single Market and Economy (CSME), with GCCI President Timothy Tucker pointing out that Guyana has always been short-changed within the regional bloc when it comes to trade.
Months after assuming office, President Ali had charged the Foreign Affairs and International Cooperation Ministry to assess and address the hurdles related to exporting food and agricultural products to markets within the Region. As such, concerns about barriers to trade in some Caricom markets were raised with the Council for Trade and Economic Development (COTED) earlier this year.
The Ministry subsequently formed a National Working Group on Barriers to Trade against Exports from Guyana. According to the assessment on market access by the Working Group, most of the challenges found were related to technical measures including sanitary and phytosanitary measures. It also found several technical and administrative regulations that were all hampering the export of Guyanese products.