The Lusignan Golf Club, having hosted a most interesting tournament just under a month ago, is hosting the Agro Services-Amazon Planx Golf Tournament on Sunday, 21st instant from 09:00 hrs.
This Open tournament would be contested in the medal play format, which would see an individual golfer recording each of his shots in an attempt to finish the round using the lowest number of strokes.
Most people regard stroke play as the traditional way of playing golf, as it is the one most often seen on television, notably in tournaments held by the PGA Tour and its international equivalents.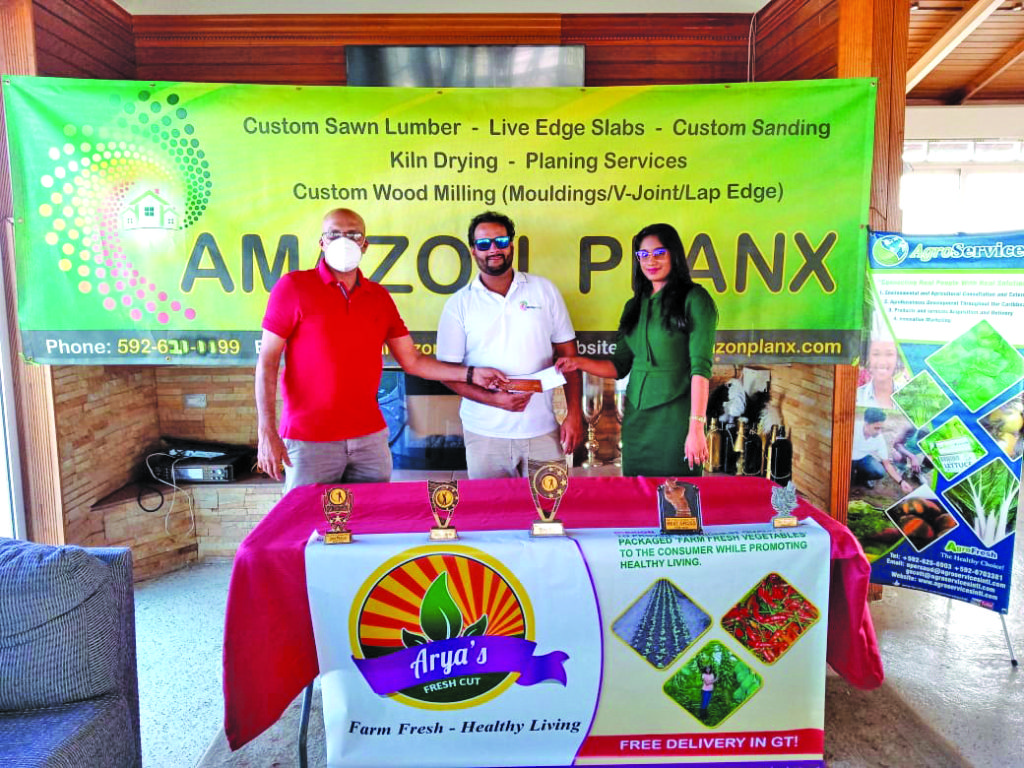 In terms of Gross, the golfer who has posted the lowest round wins, and in terms of Net, the golfer who has posted the lowest round net of his handicap wins.
In Sunday's competition, prizes would be awarded to the top four best net finishers, best gross, nearest-to-the-pin, and the longest drive. A total of 40 players are expected to compete, among whom would expectedly be Max Persaud, Patanjilee Persaud, Avinash Persaud, Troy Cadogan, Ravi Persaud, Brian Hackett and the veteran Maurice Solomon.
Speaking at a simple ceremony to launch the tournament, Corporate Liaison of Agro Services, Renuka Singh, said, "We are thankful to Lusignan Golf Club for having us being a part of the tournament. On behalf of our Agro Services team, we would like to thank and acknowledge all of the outstanding organisers, other sponsor, and competitors in the upcoming tournament. We are extremely excited to be a part of what we know will be a fierce competition.
"For those who may not know who we are and what we do, Agro Services Inc is one of Guyana's leading quality suppliers of bulk whole and processed fresh fruits and vegetables. Recently acknowledged by the GMSA for 'Emerging Entrepreneurship' with a product of a consistent quality, we also specialise in a number of additional agricultural development specialisations.
"Our name essentially translates to 'agricultural growth services'; this is tied to our commitment to quality and improved service for all of our clients, customers and partners. We thank you once more for having our tournament, and would like to pledge our continued support for this and upcoming tournaments."
Also speaking at the simple ceremony, CEO of Amazon Pranx, Amit Persaud, noted that, as a company, they are fulfilling their corporate responsibility, hence they are pleased to be associated with the development of the game of golf.
He explained that Amazon Planx is a complete wood- processing facility, the products of which range from logs to moulded products such as base board, tongue-and-groove, lap-edge crown mouldings, deck boards, and a wide variety of lumber.
"We also have facilities for kiln dried lumber," he explained.
President of the Lusignan Golf Club, Patanjilee Persaud, was grateful to the sponsors. She noted that all COVID-19 precautionary measures would be in place for the tournament. Special surprise hampers and prizes would also be obtainable at this tournament, according to its sponsors (Agro Services and Amazon Planx).
Those wishing to learn more about Agro Services are invited to check out its premises at Lot 181 Section D Non Pareil, East Coast Demerara, or make contact on cellphone # 608-2588 or visit the Web page www.aryasfreshcut.com and www.agroservicesintl.com.
As for Amazon Planx, this business can be found at Lot 29 Coldingen Industrial Estate, East Coast Demerara, or can be contacted on cellphone # 621-1199.