− preliminary report completed
Just over two weeks of intense investigation into the discovery of an aircraft at Yupukari, Upper Essequibo-Upper Takutu, the preliminary report of the Commission of Inquiry (CoI) led by Brigadier Retired, Edward Collins, was on Monday handed over to State Minister, Joseph Harmon.
The preliminary investigations revealed that the aircraft found on September 13 bearing registration number N767Z originated from Colombia. Enough intelligence gathering suggested that the aircraft developed engine problems and the pilots had a requirement to conduct a certain manoeuver in order not to lose consciousness.
"When they got to Guyana, because the aircraft could not start, it remained there for a while. We have evidence to suggest that the residents found that site by August 18, 2016," Collins revealed.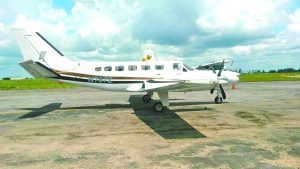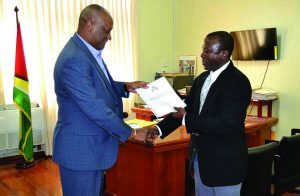 The Commissioner noted that during the investigations, it was also discovered that residents were reluctant to provide information to the security forces. In light of this, it is likely that recommendations in the final report will include the development of better relations and communication between the security sector and the communities in those areas.
Concurrent to the CoI, a the Joint Services team headed by Superintendent Hugh Denheart of the Guyana Police Force, is conducting investigations and will pursue and probe the areas beyond the scope of the Terms of Reference of the Commission.
Upon receiving the report, Harmon expressed Government's gratitude for the work, which has been completed so far, even as he noted that the administration looks forward to the final document and its findings and recommendations.
"We look forward to the final report when its gets here as well as the recommendations to improving the communication in the hinterland and our borders and the timeliness of that information to the centre where the decisions have to be made," the minister stated.
The Cessna aircraft was discovered hidden in a clump of bushes by Joint Service patrol. Immediately upon discovery, a team of Joint Services—GDF, GPF, CANU—investigators was dispatched to the area.
Upon checking the US registration number, it was discovered to be false.
The aircraft was subsequently repaired and flown to Cheddi Jagan International Airport. It is currently secured at the GDF Air Corps Hangar.