Permaul's omission from Windies Tour to England…
…call for urgent CWI explanation
Guyana Jaguars left-arm spinner Veerasammy Permaul continues to be ignored by the West Indies selectors, and has been overlooked for selection to the Test team that is due to tour the UK in July.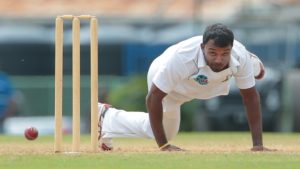 Both the club to which he is affiliated, Albion Community Centre Cricket Club, and the Berbice Cricket Board (BCB) have expressed disappointment at Permaul's non-selection, and are calling for an immediate explanation from Cricket West Indies (CWI).
BCB statement
Does performance matter any more in West Indies cricket, or are the players being judged by other factors that we are unaware of? Those were the thoughts of the BCB when they heard about the non-selection of Veersammy Permaul to the 14-man squad to tour England, which will depart on June 8.
"It gets more puzzling when he cannot even make the squad of eleven reserves, despite been the leading bowler in the 2020 regional four-day tournament with 50 wickets, including three five-wicket hauls in an innings and two ten-wicket hauls in a match.
"Some of the players who have made the team have not returned performances even remotely close to Permaul's, and yet they continue to be ahead of him in the eyes of the selectors.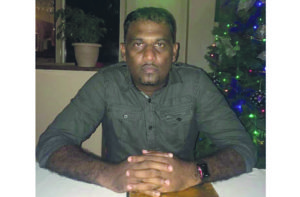 "What message are the West Indies selectors sending to our players when they turn a blind eye to performances of the highest standard and reward those at rock bottom?
"In the last six years, Permaul, of the Albion CC, has taken 290 wickets at the senior four-day level at an average of 16.90, and has 18 five-wicket hauls and seven ten-wicket hauls in a match. This performance is unmatched by anyone in the Caribbean, and yet he last played Test cricket in 2015, ODI in 2017, and 20/20 in 2018.
"The BCB would like to condemn, in the strongest possible way, the sickening treatment being handed out to this outstanding son of Berbice, and would like for an explanation to be given on his non-selection.
"Had a decision been taken that Permaul's career is over when he is just 30 years old, or is there another unknown factor for his non-selection? is he undisciplined? Is he considered just a regional bowler, or is he too old? We deserve to know, as the BCB is, without doubt, the hardest working cricket board in the Caribbean, and we would not sit back and watch our cricketers being treated like second-class citizens. They deserve better.
"Over the last decade, I have always found Permaul to be a very committed, focused, disciplined, and whole-heartened player. It is an undisputed fact that, based on performances, Veersammy Permaul deserves to be on a senior regional team, and this profound nonsense needs to stop with immediate effect.
"Shame on the persons responsible for his non- selection, and surely you must have some guilt in your conscience, that you did the young man wrong.
"My dear Berbicians, I would like to plead with you to pray for our young hero, that God would continue to bless him, to inspire him, and to give him courage to continue working. Continue to break down the door with performances, so that they would recognise that they have been wrong to you.
"Berbicians have been known for their inner courage and strength, and we always rise to the top despite efforts to keep us down. Please be assured of my personal support along with that of the entire management of the BCB, and we would continue to do so until justice is given.
"To Mr Vemen Walters and the Albion CC, please keep the faith and upkeep the good work you are doing to keep Berbice Cricket flying high."
Albion CCCC statement
The Albion Community Centre Cricket Club (ACCCC) wishes to express its extreme disappointment yet again with the non-selection of Veerasammy Permaul to the Cricket West Indies' team for the impending tour to England.
In a press release, the Club stated that Permaul's omission is mind-boggling, taking into consideration the young man's dominance with the ball in both the Regional First Class and Limited Overs' tournaments over the years, with the abbreviated just concluded 2019/2020 First Class season being no exception, where he bagged fifty (50) wickets.
"Selection must be based purely on merit, and undoubtedly Permaul merits his selection based on his performance. What wrong has he done? His performance speaks for itself year after year, season after season, yet he continues to be ignored by the selectors."
In the last six years, the left-arm-spinner and superbly capable lower-order batsman has taken 290 wickets at the regional first-class level, at a very impressive average of 16.90. This is inclusive of 18 five-wickets hauls in an innings, and 7 ten-wicket hauls or more in a match. With over 536 first class wickets under his belt, Permaul's performance is unmatched, but he was able only to represent the West Indies in six test matches, the last of which was in 2015.
Permaul's non-selection to the Cricket West Indies team for the tour to England is a disincentive to young cricketers, not only at Albion but in Berbice, Guyana and the West Indies as a whole.
"We, at the Albion Community Centre Cricket Club, therefore demand an explanation from the Cricket West Indies' selectors for Permaul's non-selection, as we are eager to know what more he must do to be selected."