BCB/Trophy Stall Under-13 Tournament…
Over the last 15 years, the Rose Hall Town Youth and Sports Club (RHTY&SC) and the Albion Community Centre Cricket Club have been the two dominant cricket teams in Berbice. They have played numerous finals at the different levels and both clubs have a lot of respect for each other.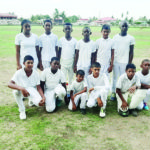 On Sunday, both clubs advanced to another final after registering victories in their respective semi-finals of the Berbice Cricket Board (BCB)/Trophy Stall Under-13 tournament. RHT Poonai Pharmacy defeated a determined Rose Hall Canje on first innings while Albion obtained a similar result against Achievers CC at the Bush Lot Ground.
At the Hampshire Ground, RHT Poonai Pharmacy won the toss and elected to bowl first. Rose Hall Canje raced to 60 without loss as Zadeem La Rose and R Ramdehol started like a house on fire. Ramdehol fell for 19 to spark a spectacular collapse to 107 for 8 off their allotted 40 overs, with La Rose eventually top-scoring.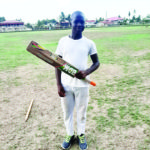 Spinners Tyrese Smartt, who had 3 for 26, and Imran Mohamad, who bagged 3 for 21, were the best bowlers for Poonai Pharmacy. Requiring 108 to take first innings and a place in the final, the 2018 Under-13 runners-up reached 131 for 6 when their first-innings quota of 40 overs were bowled out. Twelve-year-old Tyron Smartt batted throughout the innings to remain unbeaten on a classy 63 not out while Khemraj Tika scored 16 before he was run out in a mix-up with Smartt. La Rose returned with the ball for Canje to take 3 for 31.
Batting a second time with 70 minutes remaining in the match, Rose Hall Canje raced to 61 for 2 with Aaron Craig hitting a quick-fire 29. Off-spinner Deeraj Ramjit took 2 wickets for 19 for RHT Poonai Pharmacy as the match was called off early.
At the Bush Lot Ground in West Coast Berbice, Albion batting first against Achievers scored 77 from 29.4 overs. Afraz Budhoo top-scored with 36, which included seven sweetly-struck boundaries. Extras contributed a healthy 13. T Isaacs took 4 for 20 and T Ramcharran 3 for 14 for West Berbice, who, in reply, were bowled out for 27, with only E Rogers reaching double figures with 10.
Seven of Achievers batsmen failed to trouble the scorers as Afraz Budhoo (3 for 10); Devin LalBehari (2 for 10) and Ritesh Nathoor (2 for 0) bowled well for the visitors. Albion batting a second time reached 65 for 4 when the game was called off. Budhoo completed a fine all-round performance by scoring 16 while Nathaniel Chinapen (17) and LalBehari (17) chipped in. A Doobay took 2 for 11 while T Isaacs and C Dale took a wicket apiece. Earlier in the day, the match was delayed by three hours owing to heavy-morning rain.
Rose Hall Town Poonai Pharmacy and Albion would clash in the final on Saturday, December 7 at the Area H Ground. The 2018 Under-13 runners-up had taken first innings points from Albion when they played in the opening round at the Area H Ground. The match would bowl off at 10:00h, with the first innings having been restricted to 40 overs.