Ryan Farias was returned as Rupununi Football Association (RFA) President when its Annual General Meeting (AGM) was held on Saturday, November 30 at the St Ignatius Secondary School.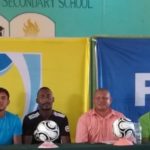 The full executive reads: Ryan Farias (President); Curtis Buckley (First Vice President); Nobert Williams (Second Vice President); John Abraham (Third Vice President); John Adams (Fourth Vice President); Troy Benjamin (Secretary); Deborah Allicock (Treasurer) and Amanda Campion (Assistant Secretary/Treasurer). The Committee Members are Joshua Fredericks, Colin Henry, Errol Mc Garrell, Leroy Johnson, Sean Curtright, Viviane George and Roy Andrews.
Clubs present were Paiwomak Warriors, Sun Parakeets, Tabatinga, Rising Stars, Gladiators, Guyana Rush Saints, Terminators, Strikers, Snipers, Titans United, Shiriri and Far East United Sports Club.
Four new clubs were admitted fully to the RFA: Moco Moco FC, Spartans FC, Rewa Sports Club and Potarnau Sky Kings FC.
Commenting on his re-election to a second term as President, Farias expressed thanks to the clubs for reposing confidence in him to lead the body for the next two years while outlining his plans.
"The focus for this new executive for the next two years would be 1) to have qualified coaches for all our clubs; 2) to have more referees qualified; 3) to have three to four male players in the national team who will be representing Guyana at the 2026 FIFA World Cup bid and 4) to be able to compete at any tournament level amongst the other Regional Member Associations."
Farias also noted that it was very challenging to travel around in the Association, so they were also going to pursue the acquisition of a vehicle to help address this issue with the assistance of the Guyana Football Federation (GFF).
Performing duties as the Returning Officer was James La Rose on behalf of the GFF.