An Albouystown, Georgetown family is now traumatised after four armed bandits invaded their home on Friday morning and relieved them of cash, jewellery and other valuables.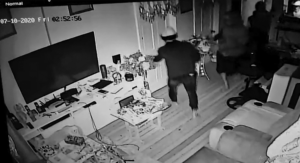 According to reports received, the family was asleep at about 02:20h when they were awakened by loud noises. Upon checking, they realised that armed men were trying to gain entry into their home.
CCTV footage that was seen by Guyana Times showed that the men entered the home through a door that gave them entry to the kitchen.
Thereafter, the suspects were seen kicking and forcefully hitting what seemed to be a tightly locked bedroom door.
A few minutes later, the perpetrators managed to get the door open but the family was seen fighting to keep the door closed. They were eventually overpowered by the four men.
After gaining entry into the room, the family was badly beaten and terrorised, as the men demanded cash, jewellery and other valuables.
During that time, one of the suspects that was clad in a pair of three-quarter trousers and a hoody was keeping guard.
Regional Commander Phillip Azore confirmed that the men made their escape with a quantity of gold jewellery, and an undisclosed amount of cash.
"This robbery was done by four identifiable males," the Commander explained. The police are presently reviewing the CCTV footage as the investigation continues.