By Brandon Corlette
Not many youth cricketers have had the privilege of representing Guyana at the Under-19 level for three successive years. The hard-hitting opening batsman Alex Algoo is among the few to have attained this distinction, being set to represent Guyana for a third time in the Cricket West Indies' (CWI's) Regional U-19 tournament slated for the upcoming week in St Vincent and the Grenadines.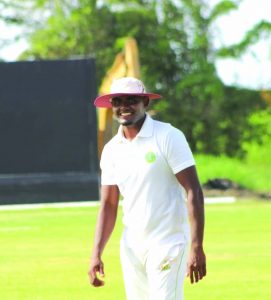 Currently participating in the Guyana U-19 training camp at the Chetram Singh Centre of Excellence at La Bonne Intention (LBI) ECD, Algoo told this reporter in an exclusive interview that he has gained a lot of experience from playing in previous Regional U-19 tournaments, and will be aiming to score some runs in this tournament.
The right-handed opener declared, "Well, one of my main goals is trying to get the most runs in the tournament, because I am looking forward for a West Indies U-19 selection that is coming up in January 2020".
Algoo has had a brilliant season in the 2019 Hand-in-Hand Inter-County tournament, where he scored the only century therein. He told this reporter that he has been working on the technical aspect of his game.
"The coach has been working with me in the nets, and I am focused on my fitness right now. But when the tournament starts, I will execute effectively," he explained.
This member of the Young Warriors Cricket Club in East Canje Berbice — the same club for which West Indies batting sensation Shimron Hetmyer plays — said his performance was a stepping stone heading into the CWI Regional U-19 tourney.
"I always (knew) that I had it in me to go out and perform well (at) the inter-county level", he declared, adding that he is confident his preparation would result in his having a successful Regional U-19 season.
Algoo scored 365 runs for Berbice in the inter-county tournament in 2019, and is one of nine players who will again be participating in the CWI Regional tournament to be played in St Vincent and the Grenadines. Speaking about the wickets in that country, Algoo explained that some of them are good for spin bowling and some facilitate the ball coming on.
"The wickets (there) are flat, and some of the grounds are relatively large," he explained.
Algoo is expressing gratitude to his parents, and to his coaches: Quacy Maltae, Julian Moore and Hubern Evans. He is also thanking all the other coaches from the other clubs he has played for, especially Bharat Mangru of the Police Club. His gratitude also goes out to all those individuals who continue to lend their support to him as a cricketer.
With the Regional U-19 tournament slated to be played in only the 50-Over format, Algoo, as an aggressive player by nature, will be aiming to capitalize on this development.