– says due process must be followed for MP, PAC Chair
Even the Government, by way of Cabinet spokesperson and Minister of State, Joseph Harmon, is of the view that due process must be followed for Opposition parliamentarian Irfaan Ali when it comes to the constitutional offices he holds.
Nineteen politically trumped-up charges were on Wednesday instituted against Ali by the Special Organised Crime Unit (SOCU), in a move the parliamentary Opposition and the International Centre for Democracy (ICD) have criticised and deemed "victimisation of a political opponent".
However, Ali sits as the Chairman of the Public Accounts Committee (PAC), which reviews the Auditor General's reports and calls officials to account based on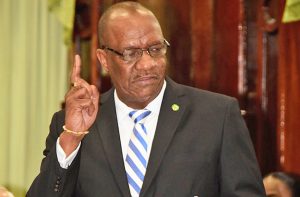 discrepancies the Audit Office highlights.
At his post-Cabinet press briefing on Friday, Harmon assured that Ali's post as Chairman of the PAC is secure under the principle of 'innocent until proven guilty.'
"When the Parliament meets and the committee meets, the processes in the Parliament will determine that (recusing himself)," Harmon said.
"I believe that we have a system of laws in Guyana where someone is innocent until proven guilty… So in fact if there is any need for any form of action, it will be guided by that basic principle of how we act and how we behave in public life… but I would not want to venture any further comment on the matter, since it is engaging the attention of the courts," he added.
Ali, who once served as Housing Minister under the previous Administration, was arrested at his Georgetown home at about 04:00h on Wednesday morning and taken to SOCU's headquarters.
He was interrogated after which he was taken to the Georgetown Magistrates' Courts where the charges were read to him by Chief Magistrate Ann McLennan.
After representation by several high profile lawyers, including former Attorney General Anil Nandlall, Priya Manikchand, Davendra Kissoon and Sase Gunraj, the Opposition Member of Parliament was released on self-bail.
Nevertheless, the arrest and subsequent charges stemmed from the sale and transfer of lands located in Sparendaam, East Coast Demerara (ECD), commonly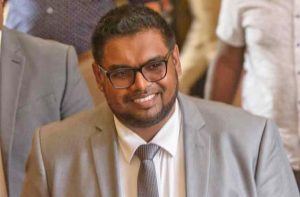 known as "Pradoville 11".
Political victimisation
The ICD, a non-government organisation, made up of Caribbean nationals but stationed in the New York Diaspora, subsequently expressed disappointment with the increasing evidence of "political victimisation" by the governing A Partnership for National Unity/Alliance For Change (APNU/AFC) coalition Government against the Opposition People's Progressive Party/Civic (PPP/C).
"These legal manipulations to victimise political opponents at a time when people are worried about free and fair elections in 2020 do not inspire confidence that the Government has intentions for a strengthening of democracy in Guyana," a statement from the ICD said.
While acknowledging that it is the obligation of every Government to protect national assets and that every Government must act to prosecute those Government officials that deliberately convert national assets for personal gains, they feel the coalition has not been doing that.
"However, the behaviour of APNU/AFC in charging former Government officials since May 2015 in Guyana appears to be more of a political witch-hunt rather than a transparent and legal process consistent with protecting national assets," it observed.
The ICD said it has monitored with dismay the worrying intensification of bullying, political harassment and intimidation in Guyana. The political victimisation carried out against senior members of the PPP and well-known supporters of that party.
The ICD said it sees the charges against Ali and those against other senior members, like Nandlall, as strictly political and as a deliberate act of witch-hunting. "While we have tried to be objective as we support building a democratic society in Guyana and other countries around the world, we view the situation in Guyana as a weakening of the democratic fabric."
The Special Organised Crime Unit (SOCU) was singled out by the ICD as being the lead law enforcement organisation that has been engaged in this type of activity. Reference was made to Ali's recent arrest. The organisation said it was clearly spurious criminal charges that are aimed towards amplifying the ongoing setting of political harassment and intimidation.