The city of Georgetown will now be spearheaded by People's National Congress Reform (PNCR) Councillor, Pandit Ubraj Narine after he was elected on Friday as the new Mayor.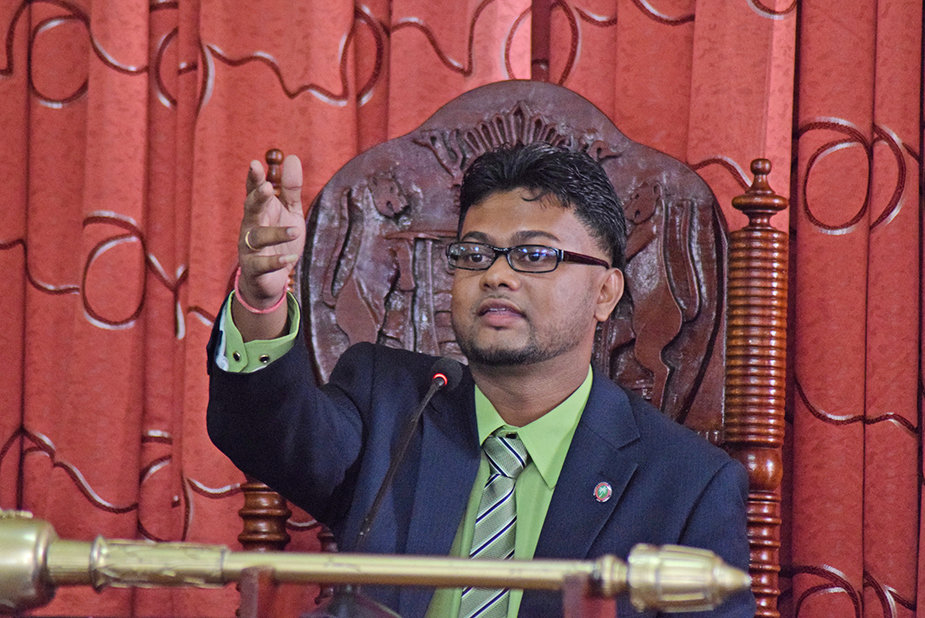 The Councillors were sworn in in the chambers of City Hall where nominations were followed by elections of the Mayor, Deputy Mayor and Finance Committee. Twenty-nine Councillors were sworn in after Patrick De Santos submitted his absence for medical reasons. He will be sworn in at a later date, summing up the total to 30 representatives.
Narine, who represents Constituency One, was nominated by Councillor Ivelaw Henry and entered the race with People's Progressive Party/Civic (PPP/C) Councillor Bishram Kuppen, who was selected by Deon Younge. The new Mayor secured 21 votes in his favour and was elected accordingly.
Following his lead was Alfred Mentore who was elected as the Deputy Mayor with 23 votes and six against the nomination.
The Council elected seven persons to charge the Finance Committee, comprising of Patricia Chase Green, Yvonne Ferguson, Ivelaw Henry, Oscar Clarke, Trichia Richards, and Bisham Kuppen.
Oscar Clarke was appointed as the Chairman to govern this financial body, while the outgoing Mayor was elected as Vice Chairwoman. The newly elected Councillors and Mayor will commence their duties as of January 1, 2019.
In his remarks as the impending Mayor who will be serving for the next three years, Narine acknowledged the fact that the Council has been cash-strapped as he implied that these matters must be addressed.
"Our challenges are a ballooning budgetary deficit, late payment and non-payment of staff, debts mounting to hundreds of millions to private contractors and struggles of collection of rates and taxes to name a few. These challenges must be faced head on together."
When asked by media operatives as to how he plans to address the burgeoning garbage disposal and build-up in the city, Narine diverged by insisting that he will not commence duties as of now and refused to comment on any other pressing matters.
"Bear in mind, I will take office from 2019 and that's all I have to say."
On the contrary, the outgoing Mayor's advice to Narine was, "You are taking the reigns as Mayor in the city of Georgetown at a crucial point where there are many challenges. I will advise you that…there are many wolves in sheep's clothing."
Chase Green assured with a piqued expression that she did not enter the Local Government Elections (LGE) to be elected again as Mayor. "I went back into the elections not to become Mayor of the City of Georgetown. I went back because [of] my constituency…"said Chase Green in a firm tone, after she praised the number of votes she would have received.
Meanwhile, General Secretary of the PNCR, Amna Ally, was in attendance and urged the Councillors to put aside their political differences which can cause divide, in efforts to effectively perform their duties.
"It is not [A Partnership for National Unity] APNU, [Alliance For Change] AFC and PPP. It is Georgetown, Guyana and I trust that all of us collectively will work towards the development of Georgetown and ultimately, Guyana. I want to call on Councillors and all Guyana to come together, to work together, to live in unity and let our theme be: Development," the General Secretary related.
Guyana Times spoke to some of the Councillors after they were sworn in and many shared ideas for their respective constituency and Georgetown.
Councillor Bishram Kuppen pointed out that accountability remains a key issue. This view was also shared by his colleagues and other members of the Council.
"It is shown that this City Council has been managed for a number of decades in an unprofessional and unaccountable manner. At this point in time, we are looking at making contributions where the best interest of the citizens can be represented in this country," Kuppen asserted.
The Deputy Mayor also stated, "We definitely need to look at how we manage our finances. That is very important to the optics and image of the Council because we don't want to be having issues as it relates to not being able to pay our garbage people."
The Guyana Elections Commission (GECOM) results indicated that APNU received a total of 18,127 votes, followed by the PPP, which got 7050, while the AFC received 3059. Of APNU's 21 seats on the City Council, nine came from the PR and 12 from the First Past the Post components. Back in 2016, the APNU/AFC controlled 25 seats. The PPP received seven seats, including four from the PR component.
Overall, GECOM's results showed that the PPP won 61 per cent of the LGE with 122,307 votes, with the governing APNU taking 68,060 votes at 34 per cent, while the AFC garnered nearly four per cent of the electorate with 8719 votes.