By Michelangelo Jacobus
Already a star on the local hockey scene, Guyana's young female hockey sensation Aliyah Gordon will be looking to further establish herself on the international stage when Guyana hosts the Pan American Indoor Hockey Tournament in October.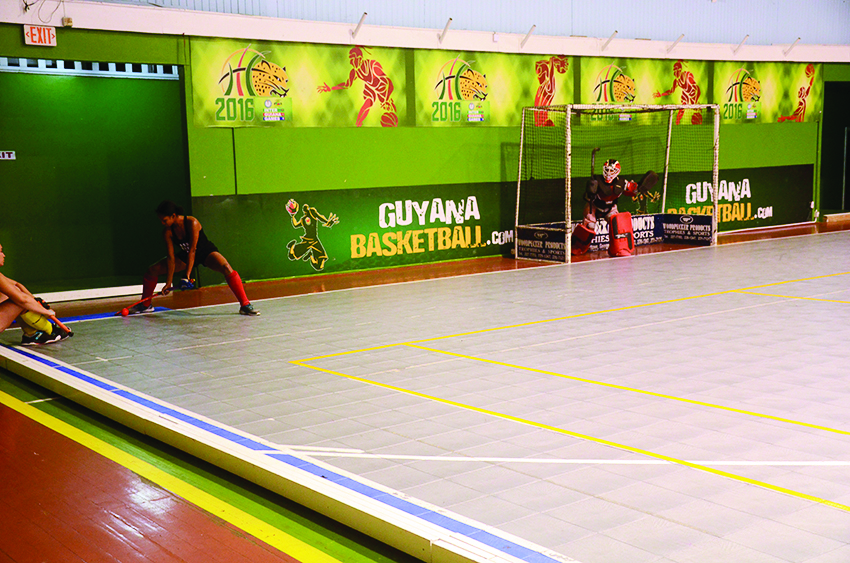 The female team is currently undergoing intense training at the Cliff Anderson Sports Hall which will also be the venue for the tournament.
Guyana Times Sport had a chat with Gordon at a recent training session and the forward revealed that along with the other players they are "really putting in the work" as these are the final days leading up to the tournament.
The main aim of Aliyah and the team as a whole is to be as competitive as is possible with the other competitors in the tournament. The Pizza Hut GCC player couldn't help but express her pleasure at the team being able to practice on the newly imported plastic-tile playing surface which is much faster than the surface at the National Gymnasium on which the local players are accustomed to playing on.
"The transition was a bit tough because we are accustomed to playing on the Gymnasium floor which is a bit slower, so this is new, this is faster, we had to get accustomed to the pace, our game pace changed totally after the floor, it is really good for us," she revealed.
She credited the coaches for their hard work in helping the team adapt noting that within one week the players grew accustomed to the playing surface.
The Guyana Hockey Board (GHB) in an effort to ensure that the male and female teams are afforded every possible advantage to help them in the tournament imported the plastic-tile surface which also meets the international standards of the International Hockey Federation (FIH).
The tournament which will see the participation of eight female teams and seven male teams inclusive of host nation, Guyana is going to be the largest tournament in its history which dates back to 2002. It was last played in 2014 and was hosted by Uruguay when Canada's female and male teams won the tournament.
Teams from North, Central, South America and the Caribbean will participate in the women's tournament with the likes of Trinidad and Tobago, Argentina and USA who have both been finalists in the past as well as Barbados, Mexico, Uruguay, Canada and host nation vying for gold.
The seven teams of the Men's competition are Guyana, Argentina, Barbados, Canada, Mexico, Trinidad & Tobago and the USA.
Canada remains the favourites having won the competition a record four times out of six while host nation Guyana male team will look to improve on their last tournament finish of third place.
The tournament will serve as a qualifier for the 2018 World Cup which will be held in Berlin, Germany.