Aliann Pompey Invitational…
By Timothy Jaikarran
The highly anticipated Aliann Pompey Invitational meet (API) will commence today at the National Track and Field Centre at Leonora WCD, and some of Guyana's best athletes will confront international opponents as they battle for supremacy.
Opening the simple ceremony held at the Sleep Inn Hotel on Church Street, in the city ward of Queenstown, Aliann Pompey indicated that, over the four years of its existence, the API has grown to become a staple in the athletics arena, and for this she is very gratified.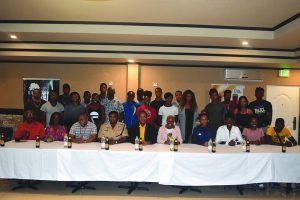 Pompey declared, "This is clearly an event that means a lot to me. to see the support of the sponsors, the athletics federation, those are the reasons that its very successful".
Following Pompey's speech, President of the Athletics Association of Guyana, Aubrey Hutson, declared that the association does its best to provide the right platform for the athletes in Guyana and for those who are visiting.
He indicated his gratitude to the foreign athletes who have come to compete, declaring that their presence raises the standard of track and filed in Guyana.
"We are going to try our best to provide the right atmosphere, the right technical support, and (to) ensure that your times are accurately recorded when competing, and (that) the officiating is done at the highest possible level. We want to congratulate Aliann for doing the hard work in bringing this meet home, and the local athletes for training hard, since they will be competing against other athletes who do not necessarily live here.
"I want you guys to understand that the young athletes coming into the system will basically look at the top athletes as someone they would like to beat. So go out there, do your best, be the professional you have always been, and compete to the highest standard," he admonished.
Also speaking at the ceremony was defending 400 metre hurdles champion Rushell Clayton, who said that being the defending champion may put a lot of pressure on an athlete, but she noted that she is confident of going out on the field and executing her routine.
Clayton also related that she is currently on a high in terms of her performance, and is looking to take that into the Invitational and the upcoming Diamond League, followed by London. She declared that she considers the Invitational a dress rehearsal for the other upcoming events.
In an invited comment, Ghana's 100m sprint sensation Joseph Amoah said, "This is my first time travelling to the South American continent. I know I am going to have a good experience competing against other South American athletes, and I'm just going to go out there and run as fast as I can, to win my event. In terms of what I bring to the meet…, I will go out there and be (as) aggressive as I can; I don't feel any pressure or nerves. In the end, I'm just going to go out there and run".
Today's track meet is being underwritten by a number of sponsors, who have all brought something different to the table. Collaboration with the Ministry of Communities will ensure that athletes have a clean environment in which to compete, while Sentinel Security has pledged a prize of US$1000 to any female athlete who breaks a national record.