– almost 268,000 passengers processed at CJIA since airport reopened
– with 53 scheduled weekly flights
Since the reopening of the Cheddi Jagan International Airport (CJIA) late last year, flights and passengers have steadily been ramped up to the point where almost 268,000 passengers have been processed.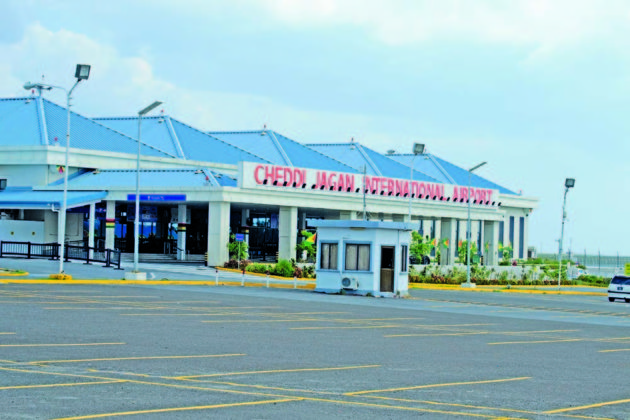 Statistics on the airport's operations were provided on Sunday by CJIA Chairman and Member of Parliament, Sanjeev Datadin. According to Datadin, 267,996 passengers have been processed since the airport reopened in October of last year. This represents a 68 per cent increase in passenger movement.
"Since we've reopened the airport, a total of 132,935 persons have arrived since the reopening. Of that number 108,943 were this year, 2021. The total number of passengers processed since the reopening of the airport is significantly higher."
"It's 267,996 passengers, with 225,406 being this year, 2021. Compared to 2020, passenger movement are up 68 per cent. And we're at approximately 51 per cent of our 2019 numbers," Datadin said.
According to Datadin, there are currently 52 scheduled passenger flights per week out of CJIA. This includes American Airlines with seven flights weekly to the JFK airport and the Miami International airport each.
Additionally, Jet Blue operates seven flights weekly to JFK, while COPA Airlines operates four flights per week. Caribbean Airlines, meanwhile, does six flights weekly to JFK, two to Toronto and one flight to Miami.
"In terms of flights, we've had 2473 in international flights recorded since October 2020, which is when we reopened the airport. International landings, which we're very keen on since that is where we make money, are up 85 per cent over 2020 and its only 18 per cent lower than it was in 2019."
Guyana closed its borders, including the CJIA and Eugene F Correia airports, back in March of 2020 days after the country recorded its first COVID-19 case. Since then, local authorities had granted approval for special repatriation flights to be operated out of CJIA to bring home Guyanese stranded overseas as well as to take home foreign nationals stuck here.
The airports were reopened to international commercial flights in October, though with various protocols in place to guard against the virus. There were preconditions including the necessary accreditation from the international oversight bodies and strict guidelines to guard against the spread of the novel coronavirus.
In addition to the mandatory protective gears that had to be worn onboard the aircraft, passengers would also have to be in possession of a negative PCR test which can be done in two categories. The first had to be within 72 hours of the flight which, if negative, would see the passenger being processed and allowed to leave freely; while the second had to be within seven days of travelling.
In August 2020, CJIA had reported an over $1 billion loss in revenue since its closure in March that year. Minister within the Public Works Ministry Deodat Indar had said that the airport corporation lost approximately $200 million per month.
Chief Executive Officer of the CJIA, Ramesh Ghir, had confirmed to this newspaper that the CJIA Corporation lost just over $1 billion in revenues up to August 2020. This, he noted, could be attributed to income generated from both passenger movement and airport operation.
Ghir had explained that operations for the first three months of the year were good, but during the period April to July 2020, passenger traffic declined by 228,936 persons, or 95 per cent of passenger traffic when compared to the same period in 2019.