Vice President Bharrat Jagdeo has arrived in neighbouring Suriname where he is expected to, among other things, coordinate a common strategy to deal with issues of climate change and the environment ahead of the COP26 Summit.
Jagdeo arrived in the Dutch-speaking nation on Monday and was greeted by his Surinamese counterpart Vice President Ronnie Brunswijk and Natural Resources and Forestry Minister David Abiamofo.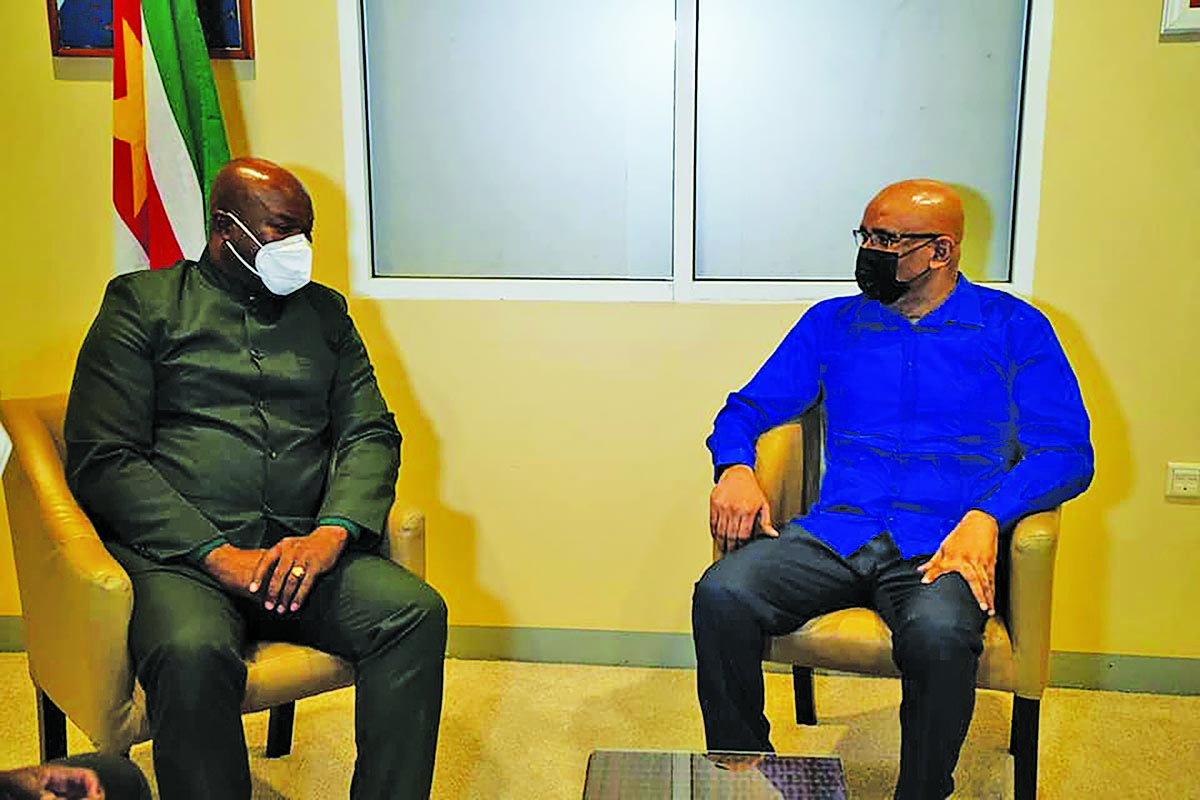 During the three-day working visit, Jagdeo is expected to engage a number of Surinamese Government officials. He is accompanied by Natural Resources Minister Vickram Bharrat.
Surinamese President Chandrikapersad Santokhi and several of his Cabinet members made his second State visit to Guyana back in August where the leaders of the two South American nations discussed a number of areas of cooperation. One of the commitments was that Vice President Jagdeo would lead an expert mission to Suriname for bilateral discussions.
It is expected that the two countries will work together to develop a common strategy to deal with issues of climate change and the environment. This visit is expected to be conducted before the COP26 Summit which is billed for November 1 to November 12 in Glasgow, Scotland, United Kingdom.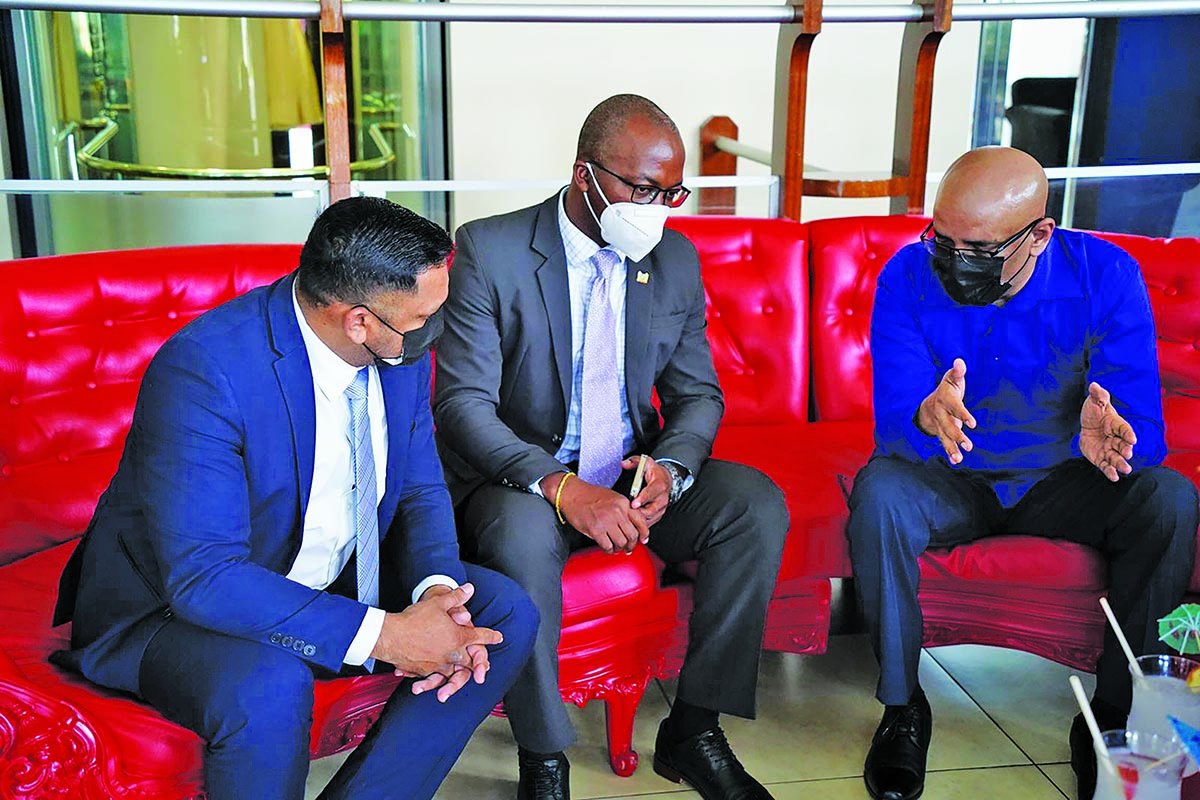 President Dr Ali had told reporters during a joint press conference with his Surinamese counterpart that "both Guyana and Suriname recognise that we have a valuable asset in Vice President Bharrat Jagdeo in this field of environment."
As such, the Head of State announced that Jagdeo will soon "lead a delegation to Suriname before COP26 to look at the coordination of our strategies, and also to work with our counterparts in Suriname in coming up with a common strategy in dealing with climate change and the environment."
According to a joint communique subsequently issued by the two Presidents, a working group will be established which will seek to come up with concrete proposals for a joint gas strategy. This will include the gas-to-shore infrastructure and a gas plant.
The COP26 Summit, which will be held in Glasgow, will bring parties together to accelerate action towards the goals of the Paris Agreement and the UN Framework Convention on Climate Change.
When President Santokhi and a Surinamese delegation arrived in Guyana in August for a four-day State visit, VP Jagdeo was attending the Offshore Technology Conference (OTC) in Houston, Texas. During the joint press conference, a Surinamese reporter asked President Ali about Jagdeo's absence.
In responding, the Guyanese Head of State pointed out that "when you're in Government, you have many competing demands. When you're in Government, you don't deal with a single task in a single day. And don't for a moment believe that for us, this is the only task we're dealing with."
President Ali added "this strategic dialogue has always been at the level of the President and the Cabinet, so it's just a matter of coincidence that the Houston conference was at the same time with this visit."
President Ali further expressed that the issue being created over Jagdeo's absence is an "invented nuance". "There is nothing to it," he affirmed.
In fact, he had reiterated that the Vice President would be in Suriname very soon to further talks with his counterparts there.
"The Vice President who is leading a delegation to Houston will be in Suriname to work with his counterparts on issues of the environment," Ali had related.
COP (Conference of the Parties) are the 197 Parties (196 countries and the EU) that are signatories of the United Nations Framework Convention on Climate Change (UNFCCC) – a treaty agreed to in 1994. UN climate change conferences are among the largest international meetings in the world. The negotiations between governments are complex and involve officials from every country in the world, as well as representatives from civil society and the global news media.
Activity at a COP takes place in two different zones – the Blue Zone and the Green Zone.
The Blue Zone is for people registered with the UN body tasked with coordinating the global response to the threat of climate change. In the Blue Zone, delegates from countries meet for both formal negotiations and informal consultations.
Participants may also take part in meetings with other delegations to clarify their positions and interests with the aim of reaching agreement or overcoming a negotiating deadlock. The UNFCCC will also host a range of events, including technical briefings, to support the negotiations. The Green Zone is for the general public. There will be a wide range of events, including workshops, art exhibitions and installations, as well as presentations, demonstrations of technology and musical performances for participants to attend.
Vice President Jagdeo is expected to lead Guyana's delegation to COP26.
In 2010, then President Jagdeo was awarded Champion of the Earth Award by the United Nations Environmental Programme (UNEP). Just recently, United States Congresswoman Sheila Jackson Lee presented Jagdeo a Certificate of Congressional Recognition in honour of his commitment to the environment, sustainable development, and green energy.