With works advancing along the East Coast of Demerara, the thousands of families that have been allocated residential house lots at Le Reconnaissance and squatters being removed from the Annandale sea reserves will soon be able to access their lands and new homes, respectively, as early as next month.
Over 1700 house lots were distributed for Plantation Le Reconnaissance, where the first phase of infrastructure works is ongoing.
According to the Housing Ministry, some $800 million in works have already been completed. A total sum of $2.5 billion was allocated to develop the entire area.
On Saturday, Housing and Water Minister Collin Croal visited Le Reconnaissance and met with some of the contractors, who are carrying out infrastructural works in the seven sections which make up the scheme.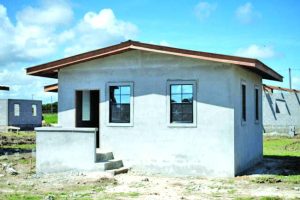 "This area was allotted in seven lots when we tendered out… We want, by the end of February, to start showing two of those lots, and the remaining set between March and April," the Minister said.
While the first two lots will be ready for individual lot identification next month, the Housing Minister added that by the end of the first quarter of the year, more allottees will be able to see their house lots.
According to Croal, the ongoing development works are rollovers from the Ministry's 2022 work programme and as such, engaging the contractors is necessary. He further explained that there were some delays, owing to adverse weather conditions but the contractors are working with new deadlines to meet their obligations.
Doodnauth Construction, STP Enterprise, Romell Jagroop, AJM, VALS Construction, Chung's Global, and H Nauth are the contractors executing work in the scheme.
Croal also used the opportunity to assure allottees that these works will be completed within another two months. In terms of the road network, three-quarters of the overall work is completed.
Annandale squatters
Meanwhile, the Housing Minister also inspected the construction works on the homes for the informal settlers at Annandale North, ECD, on Saturday. He disclosed that these families will also be able to relocate to their new homes by the end of February as well.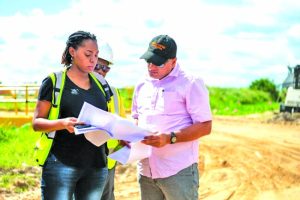 "This is the kind of initiative you will see happening a lot more this year. We have had an initial focus on allocation, but that has been to catch up on what we needed to do for the people. Those allocations will continue," the Minister said.
When the PPP/C Administration resumed office in 2020, they were met with a tremendous backlog of applications, and the Housing Ministry has been working assiduously to tackle this.
Since assuming office, 20,000 house lots have been allocated in new and existing housing schemes, with a goal of distributing 50,000 in the first term.
"But the other real hard work is working in communities to elevate them, give them an opportunity to have a comfortable environment, give them an opportunity to have an area that they can be happy about. This is one of the models we are using to eradicate and address a number of these squatting settlements and areas," Croal underscored.
He went on to say that this model will be replicated along the East Bank of Demerara.
This comes on the heels of President Dr Irfaan Ali's visit to Annandale North: Sand Reef and Marshon, in September last year, where he committed to relocating the 15 squatting families living along the sea defence reserves.
Immediately following the Head of State's visit, Minister Croal and his team engaged the residents of the community, where he assured that construction of these homes would soon begin.
"Ten of them have opted for the house, and the remaining five have indicated that they will build, but they will have to complete in a similar time too, because we want, within two to three months, for those persons to be relocated," Minister Croal explained.
According to the Housing and Water Minister, works are 60 per cent completed on the homes for these families.
Croal went on to reiterate that no new squatting areas will be recognised.
"We know what we met, we know what the situation is. We have an assessment of all those areas where we have settlements. We have a Community Development Department that has been working overtime because while we want to address relocation, a lot of activities have to take place for regularisation as well."
"Government will help to improve lives, but also, you have to want this for yourselves. You have to play your role in wanting betterment for yourselves and your families. We will be working continuously with all communities," he expressed. (G8)