Guyanese-born actress Letitia Wright, who is still reeling from the success of the Black Panther franchise, knew she was meant for great things when she left these shores at the age of eight years.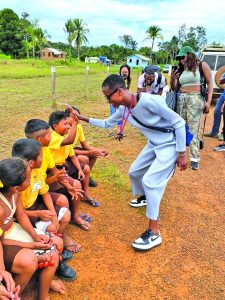 After building a successful career internationally which catapulted her into stardom, the British-Guyanese celebrity returned to her homeland on Friday evening, receiving a grand welcome that brought her to tears.
She was received by Tourism Minister Oneidge Walrond and close family and friends at the Cheddi Jagan International Airport where a homecoming programme was organised.
Wright, who was moved by the reaction to her arrival, recalled living in Guyana before migrating to the UK, when she had big dreams of becoming an actress.
"I just felt like there was something on the other side for me to do and I don't know why I felt this at the age of eight. God had a way of allowing everything but I didn't know that I would go away for so long. As I was landing, I was remembering that little girl and how frustrated she was in not knowing how much she would miss her country," the 29-year-old actress shared.
The day she was set to leave Guyana, she had missed her flight. However, she knew she was destined for greatness.
She added, "I just went to the UK and used the opportunity and God aligned me with acting. He always aligned me with it. I was in my yard in Good Intent singing Backstreet Boys songs. I would just be singing, dancing and acting, not knowing that God would use that in the years to come to inspire other people."
Letitia plays the fictional character Shuri in the blockbuster Black Panther – a highly intelligent scientist and the princess of the country, acting alongside actors like the late Chadwick Boseman, Lupita Nyong'o and Michael B Jordan. The Wakanda Forever sequel in 2022 revealed her character as the new Black Panther.
However, she expressed that she has always been proud of her Guyanese roots.
"I am proud to be Guyanese. I have always celebrated the fact that I am Guyanese. I celebrate that more than anything. I am just thankful for the welcome…You guys went above and beyond to show me love," the 29-year-old shared.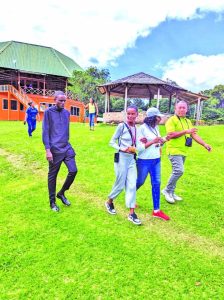 First Lady Arya Ali also welcomed Wright, calling her an inspiration for children in Guyana to follow their dreams.
The First Lady penned, "Incredible few minutes interacting with this humble daughter of the soil who is here to explore her motherland, share her experiences and create memories with us over the next few days. Letitia is an inspiration to every little child in Guyana with a dream. Her story inspires us to work hard and never quit on those dreams."
Wright will be spending a few weeks in the country where a number of activities are planned. On Saturday, she visited the Iwokrama International Centre for Rainforest Conservation and Development .
Back in November, President Irfaan Ali had congratulated Wright on the success of the Wakanda Forever sequel of Black Panther, and had extended an invitation for her to visit her homeland.
Letitia also appears in Avengers: Endgame; Avengers: Infinity War; Death on the Nile, Sing 2, the Silent Twins among others. (G12)