…cases rise to 152
Guyana recorded yet another death as a result of the novel coronavirus disease (COVID-19) – making it the 12th fatality.
Dead is 87-year-old Daymon John, a resident of Palms Geriatric Home. He died on Saturday morning at the Georgetown Public Hospital.
Caretaker Public Health Minister, Volda Lawrence confirmed the death hours later, stating that he died as a result of COVID-19 complications.
For Saturday, the Ministry's dashboard showed that there were two new cases of the virus, which amounted to a total of 152 positives.
Some 1604 persons were tested to which there were 1452 negatives. There were 67 recoveries, 73 active cases in institutional isolation, two patients in the COVID-19 Intensive Care Unit (ICU) and 24 persons in institutional quarantine.
The elderly man is the second death to be reported at the facility; and the second one in less than one week.
On May 1, Bhaneshwar Ramdial was the first resident of the Palms Geriatric Home to die from the disease. The elderly man was admitted to the Georgetown Public Hospital after he was suspected of having the virus. It was reported that he presented with all of the symptoms and because of his age and other factors, those symptoms became severe. He died just a few hours after he was admitted a patient at the hospital.
A test conducted posthumously revealed that the elderly Ramdial was positive for coronavirus disease (COVID-19). However, the Public Health Ministry did not make the death public until May 5 – four days after.
The man's death had raised many questions, given that the Home caters for a number of senior residents, all of whom have some form of pre-existing conditions namely, diabetes, cholesterol and hypertension.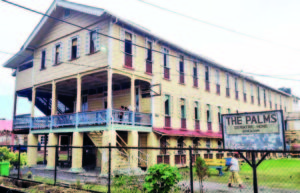 Soon after, officials decided to conduct testing on suspected cases, of which several turned up positive. This has caused the administrators of the Palms Geriatric Home to place a number of staff and residents under quarantine. The Home also improved its sanitisation protocols.
200 Palms residents tested
Saturday, it was reported that at least 200 residents at the Palms Geriatric Home have been tested for the coronavirus disease. That figure is about 50 per cent of the occupants at the home.
Director of Social Services, Wentworth Tanner stated that efforts were being made to have all of the residents tested in phases.
Over the past weeks, six new patients, all female, have tested positive, taking the total cases at the Palms to over 10.
Guyana's other deaths are 59-year-old Ratna Baboolall, 38-year-old Jermaine Ifill, 78-year-old Osa Collins, 59-year-old Shadrach Stoll, 38-year-old Deryck Jaisingh, 45-year-old Lennox Williams, 49-year-old visually-impaired Sydney Trellis, 77-year-old Colonel John Percy Leon Lewis and Vincent Torres.
Torres died last Sunday after being admitted to the Kumaka District Hospital, Santa Rosa, with breathing complications and other symptoms. A COVID-19 test was conducted on the man, which revealed that he was positive.
From the World Health Organisation's data, there are 5,701,337 reported cases with 357,688 deaths. In the Americas, there are 2,613,092 cases with 151,212 fatalities.