A driver along with a teacher, who were seen in a widely circulated video arguing with ranks of the Guyana Police Force (GPF) after being caught breaching the national curfew, were hauled before the Vreed-en-Hoop Magistrate's Court.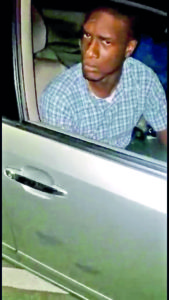 They were charged for breaching the curfew and disorderly behaviour. The driver, 26-year-old Keron Daniels of Lot 136 Continental Park, East Bank Demerara (EBD), and 32-year-old Latoya Stanford, a teacher, of Lot 19 Uitvlugt, West Coast Demerara (ECD), appeared before Magistrate Esther Sam and pleaded guilty to the charges.
The charge stated that on May 20 they both breached the curfew restrictions and were fined a total of $26,250 each. Further, Daniels was also charged with disorderly behaviour and pleaded not guilty and was released on $15,000 bail for that offence.
The prosecution's case stated that on May 20, the two encountered Police ranks in front of the Leonora Police Station at about 20:40h. According to the prosecution's case, the driver was abusive to Police ranks after which Daniels drove away. Police gave chase and intercepted the vehicle at the Demerara Harbour Bridge at 21:30h.
During the Leonora incident, someone recorded and posted the video on Facebook. The driver can be seen in the video being abusive to ranks and in one instance, took out a hockey stick and attempted to hit a rank. The case will continue on August 27, 2020.