…actions show they do not have interest of country at heart
People's Progressive Party/Civic (PPP/C) Presidential Candidate, Dr Irfaan Ali has slammed the A Partnership for National Unity/Alliance For Change (APNU/AFC) for the damage being done to Guyana's image in the region and on the international stage.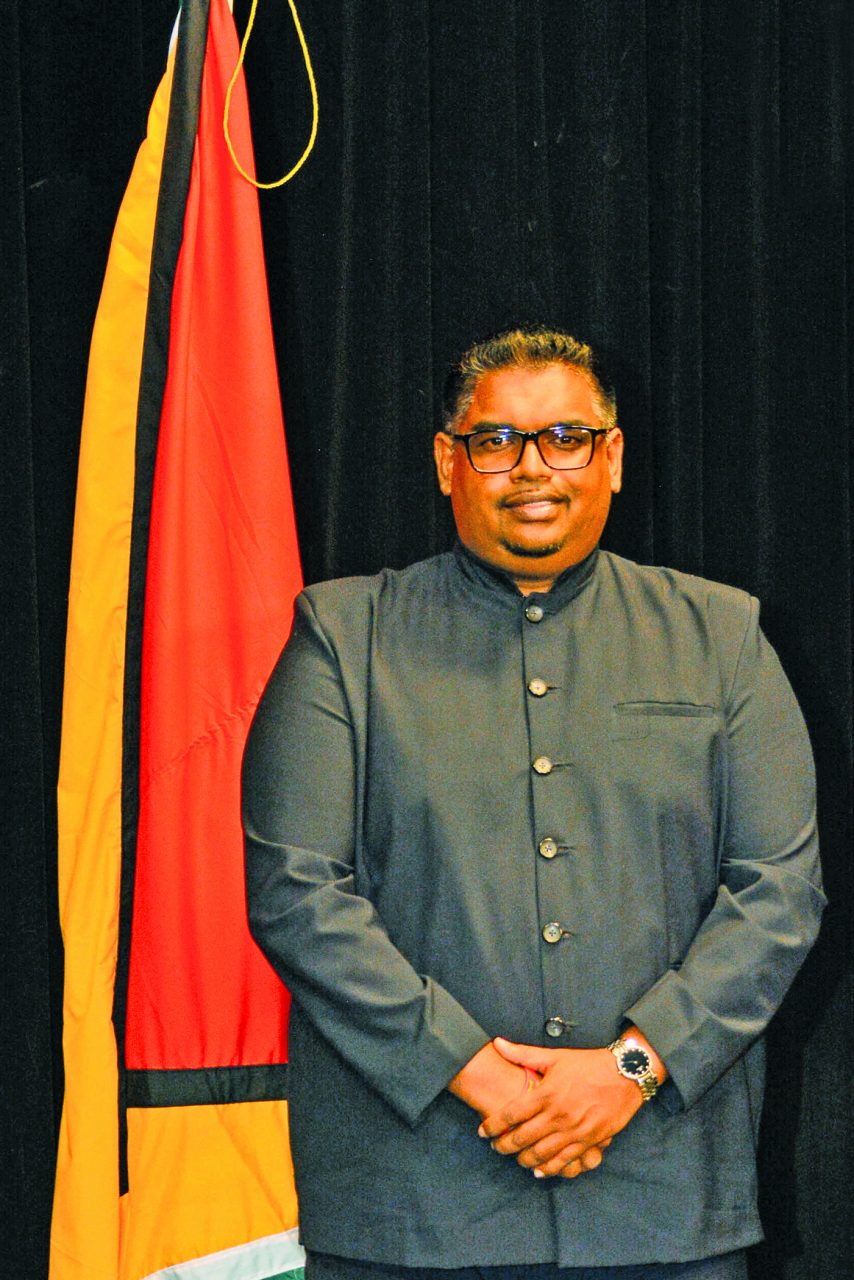 Ali was at the time in an interview hosted by Television Guyana (TV-G) which was broadcast on Monday, where he was accompanied by Prime Ministerial Candidate, Mark Phillips. He defended the Caribbean Community (Caricom) and other international bodies against the onslaught of abuse they have sustained from APNU/AFC supporters and leaders.
"I saw an interview where (Prime Minister) Moses Nagamootoo has joined the bandwagon of insulting Caribbean leaders, saying they have no business in Guyana. Then why are we part of Caricom? Why did we invite them? Why is the Caricom headquarters here? Why? This is the level to which persons who perceive themselves to be leaders, are willing to go to destroy the credibility of our country," Ali said.
"This guy went on to say the international community has expressed bias by speaking out and speaking the truth and they are aligned to the PPP in some way. So, this is the situation we are in, that is damaging to the credibility of our country. I think, to a large extent, it is embarrassing to those leaders who are carrying this narrative. Some of them don't have the ability to be embarrassed," he added.
A case in point is the deluge of personal attacks from APNU/AFC supporters which were meted out on Caricom Chair Mia Mottley after she made a broadcast in which she was critical of Guyana Elections Commission (GECOM) Chief Elections Officer Keith Lowenfield arbitrarily dumping hundreds of thousands of votes and manipulating the election results in the coalition's favour. During her broadcast, Mottley had made it clear Caricom would not tolerate one of its members going rouge and reflecting badly on the organisation.
Nor is she alone, as APNU/AFC supporters have also attacked representatives of the international community who have been clear in calling for the will of the people to be respected. Despite these events, APNU/AFC is yet to issue a statement denouncing these attacks or calling for them to be stopped.
Distress and unease
Ali recalled 2015, when the PPP/C had peacefully demitted office after the General and Regional Elections that year. According to him, if APNU/AFC leaders really had the interest of Guyana at heart, they would not put Guyana through the distress and unease it is going through right now.
"As leaders, you have to know there will be a Government and an opposition. In 2015 when we sat down after the elections, although we had an election petition filed, the leadership did an internal review of ourselves, our performance and then we outlined a clear strategy of where we had weaknesses, where were the areas of strength and what we had to do to ensure we gained the confidence of more Guyanese."
He added that the 2020 result "is the test of where we operate. But what we're seeing is a level of irresponsibility from leaders, a small cabal of power-hungry and thirsty individuals, who can never say they have the interest of Guyana at heart. Because they're damaging our interest and credibility every day."
At a time when the United States (US) has made it clear that sanctions are possible if APNU/AFC flouts democratic principles, Ali pointed out the destruction sanctions can have on Guyana's economy. In fact, Ali noted that the mere threat of sanctions can impact Guyana's image globally.
"When your country is threatened with sanctions, it has severe implications for your country's credibility, in terms of the way investors, financial institutions, look at your country. The way in which bodies responsible for the rule of law, money laundering, you are looked at in a totally different way just by the threat of sanctions," Ali said.
"At a time when we'll have to mobilise financing from financial institutions. If this little grouping believe that this country can live through sanctions, they are crazy. Every single citizen, business, aspect of our lives would be affected. Foreign investment will dry up. These are the things that can cripple our country."
A number of persons have been calling on President David Granger to concede that he lost the elections, from political analysts to powerful politicians in Washington. It was only on Friday that Chairman of the United States' Senate Foreign Relations Subcommittee on Western Hemisphere, Transnational Crime, Civilian Security, Democracy, Human Rights, and Global Women's Issues, Marco Rubio wrote a missive urging Granger to concede an elections defeat.
Rubio was joined in his statement by Senators Jim Risch and Bob Menendez, Chairman and ranking member respectively, of the Senate Committee on Foreign Relations; as well as Ben Cardin, in encouraging Guyanese authorities "to begin a democratic transition of power that reflects the results of the March 2nd General and Regional Election."
In response to all these entreaties for Granger to concede, APNU/AFC Campaign Manager Joseph Harmon has said: "that's not going to happen."