A black Honda CRV owned by television journalist, Travis Chase, went up in flames in the wee hours of Monday morning. Reports are the fire started at about 02:45h in the compound of the Public Service Ministry, located at Vlissengen Road and D'Urban Street, Georgetown. Closed-circuit Television (CCTV) footage has since revealed that someone scaled the fence, after which the fire erupted. Chase said that he usually parks his vehicle in the Ministry's compound for security purposes since he lives in close proximity.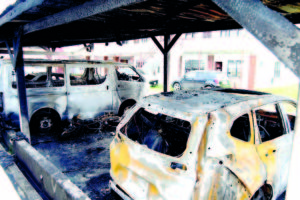 Reports indicate that the fire began at Chase's vehicle and quickly spread to a minibus belonging to the Ministry, an employee's motorbike and a car that is privately owned.
The security guard stationed at the location said that she noticed the fire and alerted Chase.
"When I went and peep and see where the fire start, I scrabble the keys, and I started hollering for Travis Chase, bout fifteen time and eventually somebody in the house wakes up, and then I see Travis Chase run down with his towel around he," the guard recalled.
She added that the vehicles could have been saved if the Fire Service had responded promptly.
"The other vehicles were not burning, you know. The footage we see shows that somebody jump the fence and throw something and light a match, and them said this happened a little while after our supervisor left," the guard said.
In February 2019, someone had slashed the tyres of Chase's vehicle.