Archery Guyana will be hosting its inaugural Seven Seas Indoor Championship tournament on Sunday, September 15, 2019 at the National Gymnasium.
Guyana's best local talents will be on display, aiming for bragging rights after being declared 'best indoor archer'.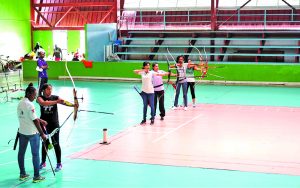 In this tournament, archers will have to demonstrate great discipline, strength, and stamina to walk away with the title. The qualities required by the archer to achieve success twin harmoniously with the Seven Seas products, which are the culmination of a continuous process of rigorous and intense research and development, resulting in natural products known for their excellent quality and high standards.
The Seven Seas brand helps families live their 'TRUEAGE' by the range of products built on the science of OMEGA3. According to Nirvana Thakur, Brand Co-ordinator, Seven Seas sees itself as a natural collaborator with the sport of archery. This is especially true given the intense level of stability, precision and concentration required to succeed in this sport.
Gratitude has been expressed by Vidushi Persaud-McKinnon, Secretary-General of Archery Guyana, for Seven Seas collaboration as a competition sponsor.
Members of the public are invited to witness this tournament free of cost. The official opening ceremony will commence at 9:30 hrs at the Gymnasium.