…GBA hopes to resurge sport in Linden
In a benevolent act that is intended to spur the growth of this sport especially outside of Georgetown, the Guyana Badminton Association (GBA) has donated racquets, nets and shuttlecocks to the Mackenzie High School (MHS) of Region 10 (Upper Demerara-Berbice).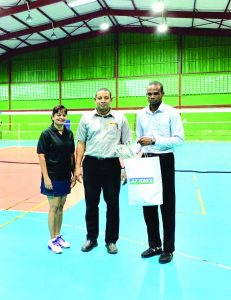 Shavin Greene, Physical Education teacher at MHS, received on behalf of the school this timely donation that would facilitate the start of the GBA's outreach programme to revive the sport of badminton in Linden.
Greene, who completed a two-day training session last month with the Guyana Badminton Association, was taught the necessary rules and regulations of badminton so that he can return to Linden and begin the process of teaching the sport with the aim to get it started in school.
The GBA disclosed that it would, from time to time, visit the school in order to follow up on the progress and share its vast knowledge and expertise where needed.
Also on the GBA agenda for the second weekend in October are Under-11, -13, -15 & 17 tournaments which would cater to all schools.