On Saturday, December 1, Archery Guyana partnered with St Joseph Mercy Hospital for the third consecutive year by having an archery stall at the hospital's Annual Christmas Fair at Demerara Park, Banks DIH.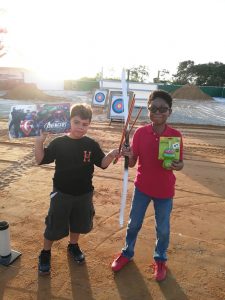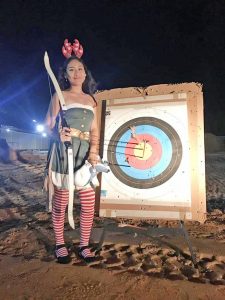 It was overviewed by members of the Archery Guyana Fraternity, namely Nicholas Hing, Umasankar Madray, Jessica Callender and Shereeda Yusuf.
Having a large turnout at the event, many patrons seemed eager to test their hands at the archery booth, as throngs of supporters embraced the chance to hit "gold" (the most central ring of the target).
As the games catered for individuals of all age groups, glee could be seen on their faces as they participated in shooting activities, showing more interest in hitting the target rather than the prize at hand.
The main attraction of the game was the traditional bare-bow shooting at the two targets – one for adults and one for children – placed at varying distances with the ultimate goal being to hit the yellow centre ring. One shot to gold secured a win.
Aspiring archers for the afternoon were given 3 or 6 arrows to shoot in an effort to win one of the many prizes displayed. There were excited faces and loud cheering and awe displayed by spectators as the target was hit, especially by the youngest patrons.
Although Archery Guyana's stall consistently attracted a large cross section of the patrons, it unfortunately had to close even as more persons gathered to shoot because the fair had officially ended.
Archery Guyana is pleased to once again partner for this event to bring Christmas Cheer to all. Thanks to St. Joseph Mercy Hospital, Mr. Chris Fernandes and Mr. Steven Fernandes.
More information on Archery Guyana can be found on www.ArcheryGuyana.org.