Although more Police ranks were deployed to patrol the area, another brazen robbery was carried out at Vreed-en-Hoop, West Coast Demerara (WCD). Guyana Times was told that on Tuesday evening at around 19:30h, two armed men pounced on the Sun Beam Hangout Bar, New Road, Vreed-en-Hoop.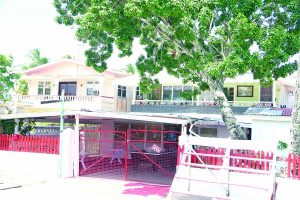 Reports are the two armed men entered the bar under the pretext of wanting to purchase cigarettes. However, shortly after making the purchase, the two men whipped out their guns and demanded that everyone remain silent and that they hand over their valuables. Manager at the facility, Yodeshwar Chetram, explained that the bandits demanded cash and alcohol.
"The two guys purchased a $100 Bristol and when they came out back outside, they had the customers already at gunpoint," the eyewitness pointed out.
After they robbed the customers of their cash and other valuables, the two men proceeded to enter the bar and further demanded cash as well as a quantity of alcohol.
Reports are that the bandits made good their escape in a white Toyota 212 car which was heavily tinted.This publication was told that a total of $60,000 in cash and the keys to a motorcar were taken from the customers. The Police were called and later launched an investigation into the robbery. However, up to press time, no arrests had been made.
Late September, two bandits invaded the Players Bar at Crane Old Road, WCD where they reportedly stole $150,000 in cash from the business before making good their escape on two red CG motorcycles. The female shopkeeper noted that it was only one week prior (on September 18) that four bandits, two of whom were armed with guns, stormed the same bar, and had made off with her gold chain, mobile phone and $35,000 cash from the bar.
On September 26, Digicel's Vreed-en-Hoop outlet was robbed after three gunmen escaped with a quantity of the company's mobile phones.
Additionally, the RH Value Supermarket at New Road, Vreed-en-Hoop, was also robbed and the female proprietor had noted that bandits grabbed her by the throat and pulled a gun on her son before they made off with $200,000 cash and $50,000 in phone cards.