A rice farmer and his family were left traumatised after bandits on Wednesday carried out a daring robbery in their rice field in Crane, West Coast Demerara.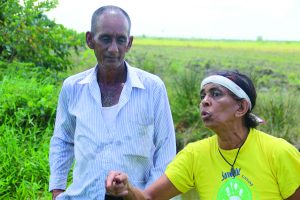 The farmer, Ramkissoon Ramnarine; his wife, Indira and their 26-year-old special needs daughter reside in Canal Number One Polder, West Bank Demerara; however, on the morning of the incident, the mother and daughter were resting in hammocks under a makeshift shed when the gunmen attacked.
According to information gathered, the two men pulled up alongside the shed on a motorcycle, got off and approached the trio. One of the men, who was said to be dreadlocked, reportedly pulled out a gun from his waist and ordered the rice farmer and his family not to raise an alarm.
The family told Guyana Times that the man picked up the bags which were under the makeshift shed and ran back to the motorcycle where his accomplice was waiting. The two men then rode away.
"I was ploughing some rice land and one workman was sitting not too far from the camp; one of the persons from de motorbike run under de shed, pull out a gun and he scramble me wife's three bags and he escape on the bike where a next guy was waiting for him," the distraught farmer noted.
Ramnarine further told this publication that the bags contained $90,000 in cash, medications for his wife and daughter, cosmetics, as well as his driver's licence and Identification Card.
The man said this was the third time that he has been robbed. He revealed that it was during their first encounter with bandits in 1995 that his daughter stopped speaking. Ramnarine added that his wife was unwell.
"Meh wife is a sickly person; she had all she medication in one [bag]," the farmer noted. The Police were contacted and have since launched an investigation into the matter.
Crime has drastically increased in the Vreed-en-Hoop area over the last few months, with 20 robberies being recorded in a one-week period. In response, acting Commander of D Division (West Demerara), Leslie James had met with concerned residents and businesspeople and he had committed to providing more Police ranks and patrols in the area.