Sooknanan Takchand, better known as "Eric" has been an artisanal seabob fisherman in Guyana for more than 50 years. He started fishing at age nine (9) to support his mother and younger siblings. Whatever he caught, Eric either sold or took home for family meals.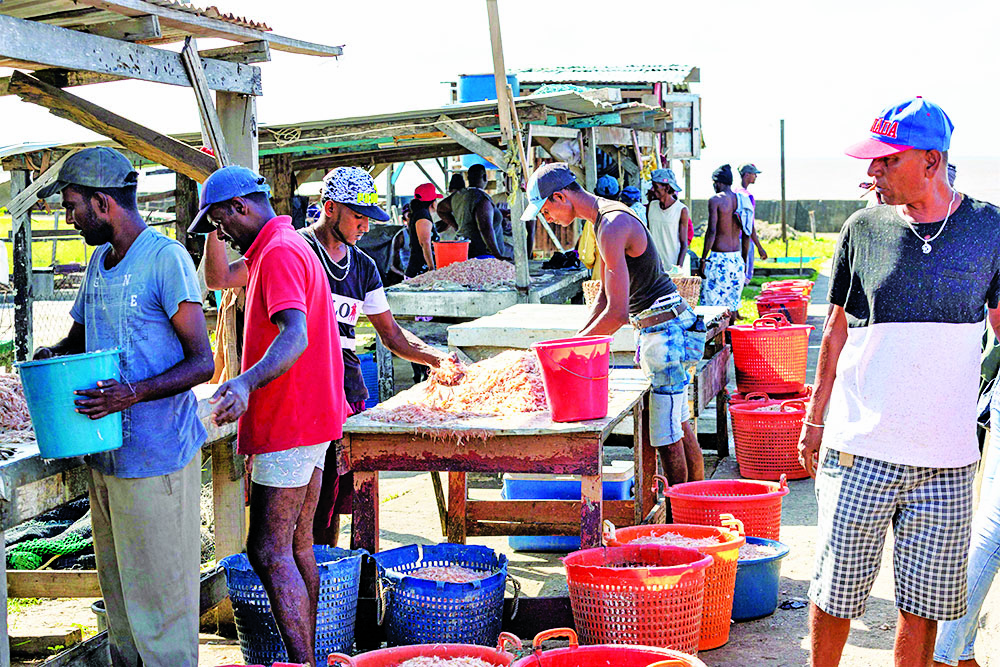 Today, a husband and father of four, Eric forms part of Guyana's artisanal seabob industry, which contributes to almost 2% of the country's total seabob landings. He mostly harvests seabob (coarse shrimp) and white belly shrimp (fine shrimp), which are processed in two ways: 1) by drying, and 2) by peeling to sell fresh in local markets.
"Most Guyanese utilise a lot of seafood, especially seabob. It is a daily meal for us. I can eat that all the time. My favourite is curried shrimp with dhal and rice," Eric related.
Guyana's seabob industry
Guyana is the world's largest producer of Atlantic seabob (Xiphopenaeus kroyeri), a commercially important shrimp harvested from the Atlantic Coast, which stretches from the United States way down to Brazil.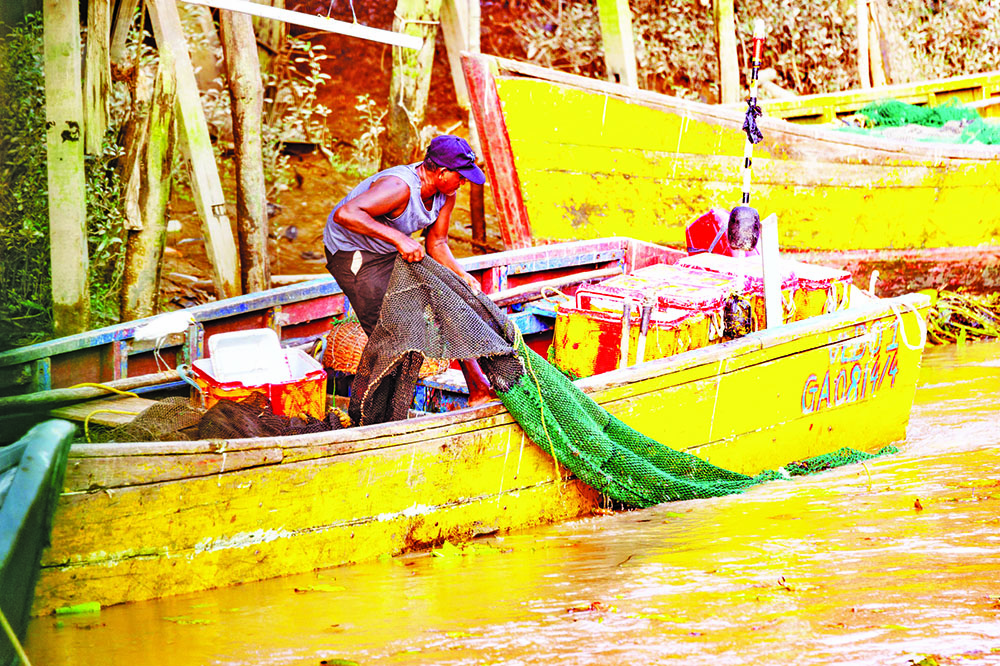 Both industrial trawlers and artisanal fishers harvest seabob in Guyana, but most of the industrial catch is processed into frozen, peeled shrimp to supply local and international markets. The industrial trawlers that operate offshore harvest most of the seabob, and function in accordance with the Marine Stewardship Council (MSC) certification, which started in 2019. The certification tool measures the industrial seabob processes to ensure sustainability in operation and quality seafood products.
MSC certification is the only scientific measuring tool for wild-capture fisheries certification and eco-labelling programme that meets best practice requirements as set out by the United Nations Food and Agriculture Organization (UNFAO).
Most of the industrial seabob catch is exported to North America.
As important players in the seabob value chain, both artisanal and industrial fishers are part of the FISH4ACP Project. The UNFAO is the implementing partner for FISH4ACP, an initiative of the Organization of African, Caribbean, and Pacific States (OACPS). The programme aims to make selected fisheries and aquaculture value chains in Africa, the Caribbean, and the Pacific more sustainable.
In Guyana, FISH4ACP focuses on enhancing productivity and competitiveness of the Atlantic seabob fisheries, while helping stakeholders overcome some of the challenges faced.
Artisanal seabob
A typical day for Eric and his fellow fisherfolk starts at break of dawn, when the red and white scarlet ibises and several other bird species noisily flock the fishing dock at Good Fortuin, looking for their meals. When the tide does not permit fishing, some of the artisanal fishermen can be seen repairing their nets and boats, building new vessels, or cleaning and servicing their other fishing gear.
On a usual fishing day, however, the workers equip their boats with iceboxes, fish crates, and nets in preparation for their journey out to sea.
Artisanal seabob fishermen use the Chinese seine gear that catch the whitebelly, seabob shrimp and anything else that gets into the nets. Eric explained that the Chinese Seine gear is designed to be positioned at one spot, making it work better during the spring tide, when the tide and current are favourable. The current steers the catch into the nets. When the tide recedes, the fisherfolk haul the nets aboard and collect their catch.
Environmental Impact
To ensure sustainable fishing practices, Eric and other small-scale fisherfolk work for only about 60 hours per month, or in the spring tide for 10 days in every two weeks.
Eric explained the reason for this: "For a couple of years now, we were facing depletion of catches. We are not producing the catch we used to produce before, so we are giving the sea time so that our shrimp and fish can multiply. We are trying to rest the area, and (are) doing our best to preserve the species for a better catch."
The artisanal fishermen also believe that the Chinese Seine gear is environmentally friendly, because it is a stationary, small-scale operation.
Social Impact
Eric conveyed that artisanal fishing allows him to provide a stable livelihood for his family and educational opportunities for his children.
He was a member of the Region 3 Fishermen's Co-operative Society before the group became inactive. He now hopes that the 30-plus fisherfolk operating at Good Fortuin can form an association to get better organised, and have greater impact at the national level in addressing issues such as declining stocks, more favourable duty concessions, piracy, acquiring boat licences, training for captain's licences, and other important concerns of small-scale fisherfolk.
Economic Impact
Quantity per catch and price for seabob are challenging for fishermen and vendors when trying to find the balance to ensure profitable operations. Both vendors and fishers are key stakeholders in the value chain, they depend on each other.
According to Eric, COVID-19 has had a big impact on the seabob industry.
"During this time, we relied on our savings to take care of our families, because the quarantine closed down everything and prevented people from shopping. This forced us to stop fishing for a few months, and to take the necessary precautions to protect our fishing gear at the landing site and at sea," he explained.
Eric feels the FISH4ACP programme can help in several ways. With the information collected, the project can help artisanal fisherfolks identify the reasons for depletion in catches, and find solutions. Fishers hope also that the project can provide training to help them manage their business, and assist to set up an association.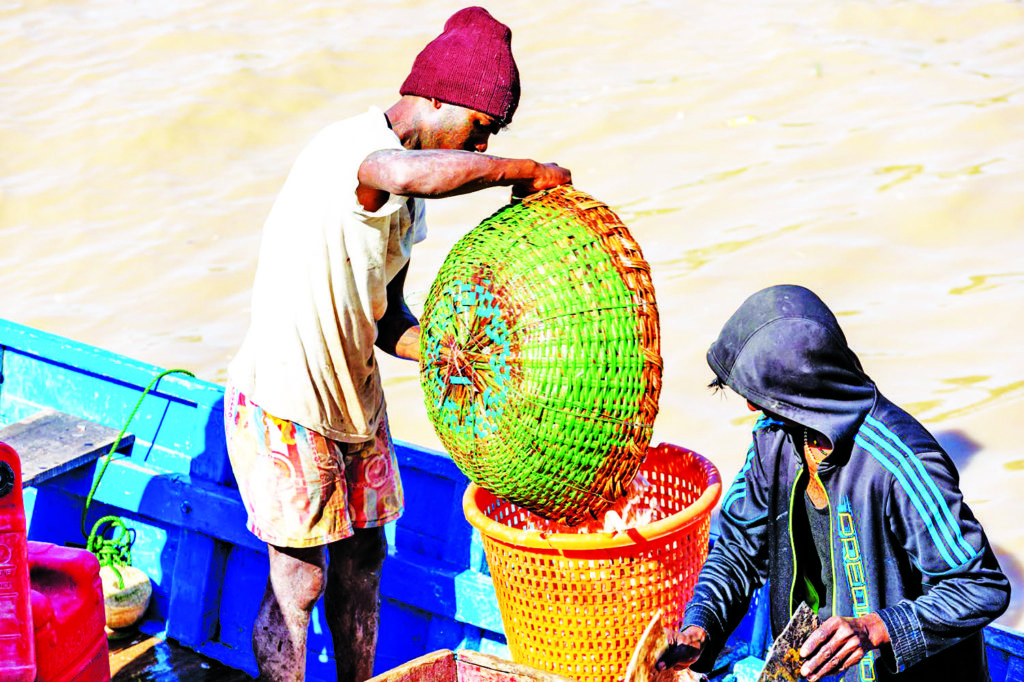 "I would like the artisanal fishery operation to be certified like the industrial fishery, so that we can sell our shrimp to them for exportation," Eric also expressed. (Article submitted by Food and Agriculture Organization of the United Nations (FAO)