As December 14 approaches, when play in the Guyana Football Federation's (GFF's) Stag year-end tournament commences, Assuria has committed a monetary donation to the success of the tournament.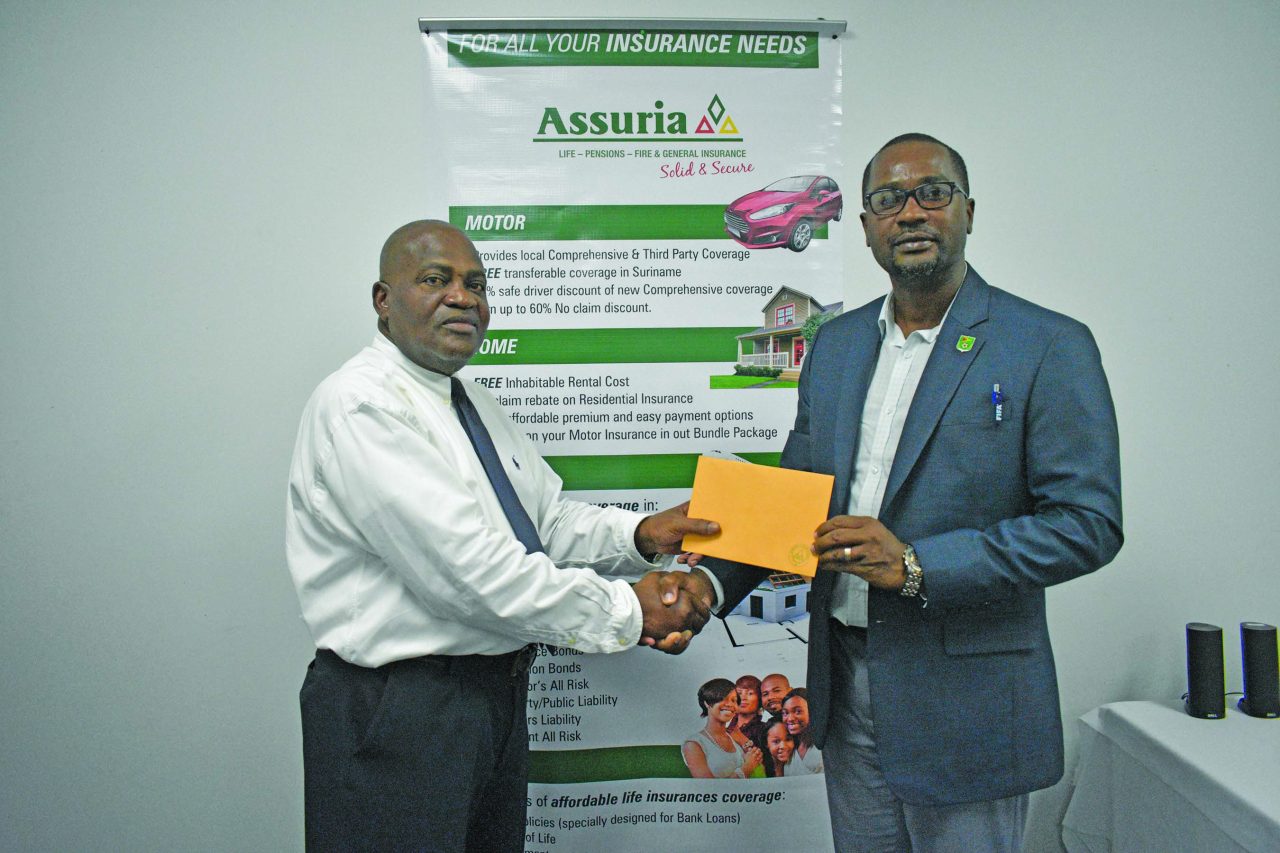 In a small ceremony held at the company's head office, an undisclosed sum was donated by Assuria's Financial Planner Patrick Hazelwood to GFF President Wayne Forde in the presence of Erwin Daniels, Assuria's Agency Manager and Head of Life Department.
Concluding the presentation, Daniels said the agency is pleased to be associated with the initiative, as it has the potential to effect positive change in the behaviour of youths.
"The GFF is engendering good behaviour for our youths and youth development. The tournament affords the youth the extra-curricular activities outside of education. Football has the ability to produce role models for the society through the development of national athletes, including coaches and players. It takes care of the youth, so Assuria will partner with any organisation which enhances society as a whole; and the GFF is such an organization," he said.
Sharing those sentiments, Hazelwood said the partnership is monumental for Assuria. "It's a great achievement in the sense that we're among the first set of insurance companies to entertain such a thought. Based on that, I'm looking forward to the aspect of moving from strength to strength, making the GFF much more effective in terms of our input as well as that of the Federation from an insurance and developmental standpoint, where football is concerned," Hazelwood said.
Forde declared that the contribution would be impactful for the sport of football. "This is an extension of an already robust relationship. Assuria is the single supplier of all of our insurance products, and we're happy to transition that relationship to the support of the game. Many young men will have an opportunity to positively engage themselves during this festive season in the game of football, which will no doubt take them away from any other form of activity that may not be in their best interest or the society's best interest. So, we're happy that Assuria has seen it fit to reinvest into the development of young people in Guyana," he said.