By Timothy Jaikarran
Most of the times when golfers take to the field, they are given most of the praise for their achievements, their faithful caddies are hardly, if at all, remembered. However, Assuria General Inc has taken 'the next step' in making a contribution to the caddies at the Lusignan Golf Club.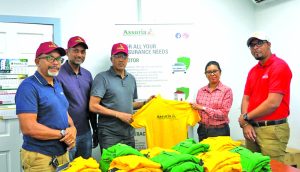 At a simple press briefing at the company's Church Street location, 100 jerseys and 20 caps were donated by the company, and Assuria has taken things a step further by including the construction of a caddy shed at the LGC in 2023.
A caddy is the person who carries a player's bag and clubs, and gives the player advice and moral support. A caddie is aware of the challenges and obstacles of the golf course being played, along with the best strategy in playing it. This includes knowing overall yardage, pin placements and club selection.
Handing over the items to the LGC, Assuria General's Assistant General Manager Patricia Persaud clarified that the company has been honouring its social responsibility for the past ten years it has been in Guyana. "The Lusignan Golf Club has been one of our recipients, and come next year, we are also going to be executing the caddy shed. We are going to be making that presentation in our budget for next year. So, next year we will be looking forward to bigger and better things," Persaud shared.
Marketing Officer Sanjiv Nandalal divulged that it is his belief that caddies are important to any golfer. He iterated that with the donation he is hopeful that the caddies would be provided with a little more comfort out in the field, and with the sponsorship of the caddy shed on the horizon, it is the company's way of giving back to the caddies.
Sharing his thoughts at the end of the presentation, LGC President Patanjilee Persaud said, "On behalf of the LGC, we would like to thank all. We would like to thank Assuria for making this generous donation for the caddies, to make sure they are well outfitted for games. We see it as a very good contribution to bring us in synergy to what is happening in the future of golf and in Guyana. We thank them as a corporate sponsor that have also promised next year to build a caddy shed, so we look forward to this moment when we would have their name prominent in and part of our golf club."
Persaud noted that Assuria has always been generous to the LGC. This is not the first gesture by the company, as it is an indication of the company's corporate social responsibility and support for the club.