A post-mortem examination conducted on the body of 61-year-old Sattie Monica Beekharry, who was brutally murdered at her Atlantic Gardens, East Coast Demerara (ECD) home on Monday found that she was struck multiple times to her head and right side.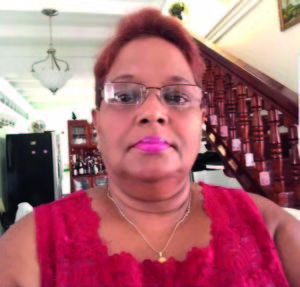 The examination was performed by Government pathologist, Dr Nehaul Singh at the Georgetown Public Hospital Mortuary.
The body of the woman has since been handed over to relatives for burial.
The businesswoman was on Monday murdered in her Lot 152 Atlantic Gardens home by a man, who was identified by neighbours as her 'close friend'.
At approximately 15:00h on Monday, neighbours heard the woman and the suspect arguing over a loan.
It was shortly after this argument that the woman began screaming for help. Neighbours immediately called the Police, but by the time ranks arrived at the scene she was already dead.
Beekharry was found by Police with a slit throat and injuries about her head and body. However, the suspect was still hiding in the house and the cops managed to apprehend him after firing tear gas into the building.
The 61-year-old mother of four lived in Canada for several years and had only returned to Guyana in February 2020.
However, due to the closure of airports amid the coronavirus pandemic, the woman was left stuck in the country. During her time in Guyana, she sold clothes and jewellery at the Stabroek Market.