A 28-year-old auto body technician and his friend, a doctor attached to a city hospital, are now nursing gunshot wounds at the Georgetown Public Hospital after they were trailed from a city bank and shot by a lone gunman.
The injured men have been identified as Ramesh Kissoon of Lot 8 Industry, East Coast Demerara (ECD) and Dr Lewis (only name given).
Guyana Times understands that the duo had just left a city bank and proceeded to Kissoon's workshop housed in the lower flat of his Industry house. Kissoon reportedly parked his motor car bearing registration number PSS 7498 and was preparing to exit the vehicle when a silver grey motor car pulled up alongside him.
A lone perpetrator allegedly whipped out his gun and shot Kissoon to his arm. He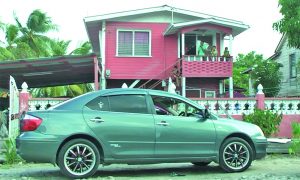 then exited his vehicle and pointed the gun at Dr Lewis and shot him to his left leg. The bandit quickly grabbed a bag containing $400,000, which Kissoon had withdrawn from the bank, reentered his vehicle and sped away.
Jaganauth Kissoon, the father of the auto technician, related that he was awakened by the sound of what he believed to be squibs which turned out to be gunshots. According to the man, after exiting his bedroom, he went outside to check on what was happening and it was then he saw his son holding his bloody hand.
"When I watch outside, I see my son running and he was holding his hand and I see blood dripping. I didn't even know that was gunshot; I thought was squib until I realise that is my son got attacked," Kissoon relayed.
He further revealed that relatives and workmen, who were at the establishment at the time, ran to the aid of the injured men.
"We had to wrap up the wounds them and then my daughter had to rush them to the hospital … I ain't really see what happened, because I was asleep; I could only tell you what I see when I come out, but my daughter who carry them to the hospital, she see what happened," the traumatised man explained.
The injured men were rushed to the Georgetown Public Hospital, where they were said to be in stable condition, with Kissoon reportedly suffering a broken hand as a result of the gunshot breaking bone.
When this newspaper visited the scene, Kissoon's motor car was seen parked with the right side window shattered. The matter was reported to the Police, and a manhunt has since been launched for the perpetrator.