Guyana's education sector is expected to receive an upthrust in the number of qualified teachers as 418 persons successfully completed their respective courses at the Cyril Potter College of Education (CPCE) on Thursday.
The 84th convocation saw 76 persons trained in early childhood, 115 in the primary sector, 223 in the secondary sector and four in the post graduate area. Thirteen students were awarded with distinctions while 403 passed with credit and two persons received the standard pass.
Principal of the institution, Viola Rowe in her address, presented statistics which show that the number of males during this period has increased by 31 per cent, when compared to last year.
"Of the total number of students presented for this period, 82 per cent are female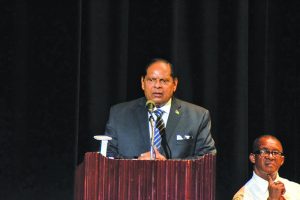 and 18 per cent are male. In comparison with the last reporting period, we present 18 more males to the education system," Rowe revealed.
However, in retrospect to 2017, there was a 16 per cent decrease in the countrywide centres which would have produced distinction graduates. The principal acknowledged that the institution is not pleased with the declining numbers and it is expected that commendable performance should be seen throughout all centres.
"Our records for the reporting period show that only 71 per cent of our centres registered at least one distinction compared to 87 in the last reporting period. We're certainly not comfortable with this decrease and would like to acknowledge that while individual brilliance or the outstanding performance of any one centre is commendable, albeit that the desired results should be outstanding performances at all centres."
In the 2018 batch, 36 per cent was trained in Mathematics, 20 per cent in English, 14 per cent in Agricultural Science, six per cent in business studies, five per cent in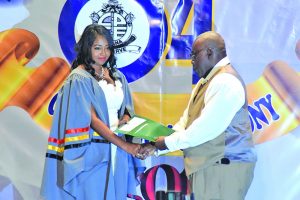 Pure Sciences, five per cent in Home Economics, four per cent in Social Studies, four per cent in Industrial Technology, two per cent in Information Technology and one per cent in Spanish.
On behalf of the Education Minister, Nicolette Henry, Director of the National Centre for Education Resource Development (NCERD), Jennifer Cumberbatch highlighted some improvements that were made to the facilities and services over the past year.
Along with an increase in the water supply, meals are now offered for non-resident students and the dormitories have received a facelift.
"With increased investments and improvements to the infrastructure, curriculum and courses, the priority is to provide modern facilities with new equipment, enhanced training and reviewed courses so as to cater for our 21st century needs," said Cumberbatch on behalf of the Minister.
Meanwhile, delivering the feature address was Prime Minister Moses Nagamoottoo, who acknowledged the work of women in society in the Judiciary and other divisions.
"The nation places great confidence in our women… The critics look at Guyana and they said it seems as though in Guyana, the women are running things. We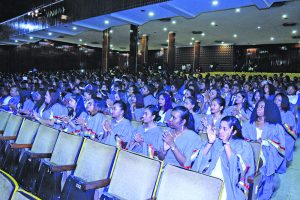 have a Chancellor who is a woman, a Chief Justice… the Director of Public Prosecutions… the Chief Magistrate and 82 per cent of the new teachers in our schools will be women," said the Prime Minister.
Throughout the ceremony, tribute was paid to the first female principal of the institution, Olive Lyken, who would have served in that capacity from 1974 to 1979.
This year, Annamarie Iserdeen Samaroo was named the Best Graduating Student.