Border controversy case
Foreign Affairs Minister Carl Greenidge has disclosed that in excess of $780 million has been spent to cover legal fees for the team of lawyers that were recruited to represent Guyana's interest in the border controversy case with Venezuela that is currently before the International Court of Justice (ICJ).
Speaking at his Ministry's year end press conference on Thursday, Greenidge explained that the money spent is part of the US$15 million that was set aside to cover legal fees from the controversial US$18 million signing bonus that Guyana received from US oil giant, ExxonMobil.
"It was used to fund all the legal fees in 2018 and it will fund the fees in 2019 until it is exhausted… The figures for 2018, I believe is in excess of 780 million Guyana dollars," the Minister stated.
Back in May, Government went to the National Assembly and got a supplementary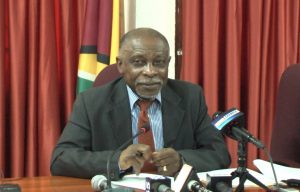 provision of $788,049,000 to offset the expenses incurred from its case at the ICJ.
Leading Guyana's team at the World Court is Sir Shridath Ramphal. The team also includes experienced overseas-based and local legal minds, some of whom were part of the team that won a border case for Guyana against Suriname. While Government has been tight-lipped about the identity of its legal team, it has been reported that three international law firms are working along with Sir Shridath.
One of these firms is United Kingdom-based Matrix and Minister Greenidge had previously stated that a professor of law, who lectures at two prominent UK universities, is attached to the firm.
However, even with this current core team of lawyers in place, the Foreign Affairs Minister recognised this issue of the border controversy is an "expensive and complicated" one. As such, he did not rule out a possible need to expand the team in future.
This, he noted, will be dependent on Venezuela's memorial in response to Guyana, whether it decides to participate in the legal proceedings or not, and the needs of the court in determining the validity of 1899 Arbitral Tribunal Award, which sets out the land boundary with the neighbouring Spanish-speaking nation. The Spanish-speaking country was given until April 18 next year to submit its memorial in response to Guyana's memorial which was filed back in June. "Even if Venezuela doesn't participate, the Judges are at liberty to satisfy themselves that question A or B needs to answered. And in many ways, I think one has to be careful in these circumstances because if the Judge finds that he's only hearing from one side, he wants to appear to be fair and may even ask you harder questions that the other side 'cause he knows what he wants to satisfy himself and he or they may have lots of difficult questions to ask. So other teams may be required or the team may need to be supplemented by additional individual lawyers or firms of lawyers," he asserted.
While he noting that he could not say how many more lawyers would be needed, the foreign Affairs Minister went on to explain that the practice in these cases is for additional lawyers to be supplemented on a particular topic or angle to build on existing capacity within the legal teams.
Nevertheless, he defend Guyana's spending on the matter, saying that it was a small price to pay, especially given what is at stake. He emphasised the need for Guyana to have the resources available to make a strong case as possible, whether or not Venezuela participates.
"[This] is a once and for all investment in protecting your right… You can't fix it afterwards, you have to be sure that you have the best from the very beginning and then you can worry afterwards. If you look at the resources at risk, you will see that this is a very, very important issue and it really doesn't behoove us to be spending too much time arguing about 10 cents extra in order to get the legal skills we need," the Minister contended.
Venezuela had renewed its claim to most, if not all, of Guyana's territorial waters off of the Essequibo Coast in 2015, shortly after ExxonMobil had announced its first find of oil in commercial quantities.
Since then, the US oil giant has made nine more oil finds making Guyana home to the world's biggest new deepwater oil discovery. The company is set to commence production in 2020 at Exxon's Liza 1 well in 2020 at an expected 120,000 barrels per day and it has been reported that the country will earn some US$300 million annually.
Back in January, Secretary General of the United Nations (UN) António Guterres had announced he was referring the decades-old controversy to the ICJ. This move followed unsuccessful attempts to resolve the matter through the various mechanisms outlined in the Geneva Agreement signed between Guyana and Venezuela in 1966. As such, Guyana filed formal proceedings back in March, asking the World Court to confirm the legal validity and binding effect of the 1899 Award.