McGill Superstars' exhibition cricket match…
One week after hosting their prestigious awards ceremony, the Mc Gill Superstars Cricket Club hosted an exhibition cricket match under the theme 'Bachelors versus Married Men' at the Okoo cricket ground at Canal #1, West Bank Demerara.
Winning the toss and opting to bat against their senior opponents, Bachelors posted a commanding 170-8 off their allotted 20 overs, despite being pegged back earlier in the innings by the Married Men.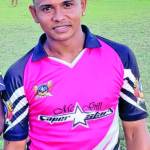 Although losing wickets within the powerplay overs, the Bachelors continued to press on, seemingly to prove a point to the boastful Married Men.
Leading the batting with a commanding 45 at the top of the order, Ganesh Puran was ably supported by Elian White with 28 and Keshram Seyhodan with 23. Adding his own flare at the end of the innings, Azar Deen chipped in with a quickfire unbeaten 33.
Bowling for the Married Men, Abdul Razack returned figures of 2-13 and Balram Aaron returned figures of 2-20.
The 171 needed for victory seemed inconsequential, as the Married Men were basically depending on their experience to overcome their much younger counterparts. However, rocked back by some early wickets, the Married Men soon found themselves in a heap of trouble against the Bachelors.
The mainstay of their innings, Prahalad Singh, attempted to rally on, but a lack of support forced him to attack every delivery, and that led to his downfall at 42.
Maintaining a tidy line and length that proved beneficial in the end, the
Bachelors' collective bowling effort resulted in Diquan Murray snaring 2-19, Ganesh Puran 2-21, Keshram Seyhodan 2-24 and Azar Deen 2-18.