The Guyana National Bureau of Standards (GNBS) on Monday certified the first company for 2023 – Brass Aluminium and Cast Iron Foundry Limited (BACIF) –under the Made in Guyana Certification Programme.
Joining the twenty-one companies already certified in 2022, BACIF is now certified to use the Made in Guyana Standards Mark on its locally manufactured fire hydrants, manhole cover with frames, test masses and saddle straps. A brief handing over ceremony was held at the GNBS Head office at Flat 15, Exhibition Site, Sophia, Georgetown.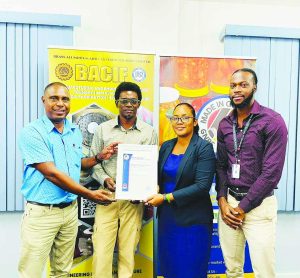 During the Handing over Ceremony, Quality Manager at BACIF, Adrian Barkoye thanked GNBS for the opportunity to be a part of the highly regarded programme. "We continuously strive to enhance what we do so we can better serve our customers. This Made in Guyana Mark will serve as a complimentary mechanism to our ISO 9001 Certification," he said, adding that the company will work assiduously to maintain the requirements of the programme.
Head of the GNBS' Certification Department, Andrea Mendonca who handed over the certificate, extended congratulations to the company for achieving this milestone. "This programme was launched with the aim of giving locally manufactured Guyanese products brand recognition, among other benefits" she noted.
The Made in Guyana Certificate was handed over by Head of Certification Services, Andrea Mendonca to BACIF Quality Control Manager, Adrian Barkoye and Operations Manager, Mr. Rondel Ali, in the presence of GNBS Technical Officer, Mr. Orlando Sturge.
The Certification is valid for 1 year and the GNBS will conduct surveillance visits to ensure the approved quality is maintained throughout the certification period in keeping with the respective terms and conditions.
The Made in Guyana Standards Mark is a registered mark that aims to provide recognition to locally manufactured products on a national, regional, and international level. It focuses on creating competitiveness for authentic Guyanese products certified under the Programme while creating a framework for the development of quality systems within our local content.