Residents of the hinterland and rural areas of the country can look forward to more technical programmes under the Guyana Online Academy of Learning (GOAL) to enhance their skills and make contributions to their respective communities.
The government over the weekend launched the Guyana Online Academy of Learning (GOAL) certificates programme at the St John the Baptist Primary School in Region Seven (Cuyuni-Mazaruni).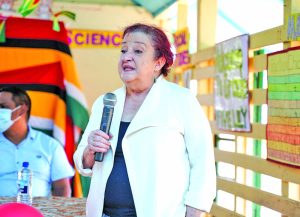 Public Service Minister, Sonia Parag expressed that no formal education is needed to apply for certificate programmes. Last year, the number of applications from the reason was quite low and she urged a turnaround in these figures for 2023.
"I think for the hinterland and rural areas in our countries, it is more programmes that will help you to develop a technical skillset that you can use in your community, that you can use to empower yourself, whether it be financially or you just want to be able to have something higher than CXC," the Minister asserted.
Parag added that as the year progresses, more undergraduate and post-graduate programmes will become available, as well as those in the technical areas. In providing access to educational programmes across the country, the Ministry will be closing gaps while people will be utilizing the tools to develop themselves.
"The majority of the [certificate] progrmames do not require any qualifications. I think these programmes are in keeping with the Government's commitment and the President's vision to narrow the gap in inequality as it relates to education and higher education."
With the rapid pace at which Guyana is developing, the Minister stressed that skill sets will be needed in greater demands, and the country must be able to satisfy such.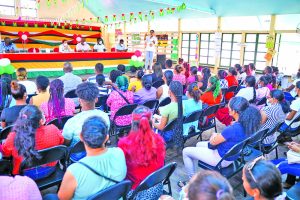 "It is something that not only moves you to higher education but it's an all-round development for the country. It does not obligate you to the Government like the Public Service Ministry's scholarships…This allows you to be self-employed. It allows you to work in the private sector. It allows you also to apply for jobs in the public sector," she underlined.
Parliamentary and Governance Affairs Minister, Gail Teixeira encouraged persons within the communities to take these opportunities.
"The GOAL programme is trying to make sure you have skills, that you're qualified, marketable and can get jobs. It is no shame on anybody if you didn't finish secondary school. That's okay. We can fix that. People must never be ashamed that they never finished school," Teixeira underscored.
In keeping with the PPP/C Government's commitment to delivering 20,000 online scholarships to Guyanese, a total of 7410 GOAL scholarships were awarded to citizens as of December. The GOAL programme is a collaborative effort between the Education and Public Service Ministries.
Last year, $1.3 billion was allocated in the budget for the GOAL scholarship programme. This programme is aimed at improving the relevant skills required to support Guyana's rapid development. In 2023, more funds will be injected.