Needing nothing short of a victory to stay alive in the competition, Sparta Boss, Beterverwagting, and Back Circle have advanced to the next round of the straight knockout "Legendary Cup" futsal tournament.
Powered by Rock Auto Trans and Spare Parts, the tournament got underway on Saturday last at the National Gymnasium, Mandela Avenue.
The outfit out of Beterverwagting were the first to pick up a win, over Sophia. BV were handed their first goal in the fourth minute, by way of a Sophia own goal. Jamar Harrigan later made it a 2-0 affair in the 8th for the victory.
Back Circle thumped Melanie 6-0 in game 2. Jermin Beckles registered the first hat-trick of the tournament, finding the back of the net in the 3rd, 17th and 20th minutes. A double from Shemar Koulen (21st & 26th) and one from Stephon McClean (13th) got Back Circle to their total.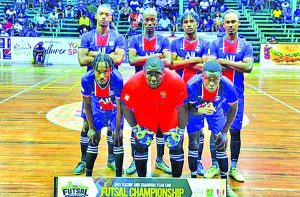 Usual suspects Sparta Boss enjoyed a 5-0 victory over Upsetters in the following match-up. Young Darron Niles led the charge for Sparta with two goals in the 19th and 20th minutes. Curtez Kellman (5th), Nicholas McArthur (8th) and Gregory Richardson (29th) added one apiece for Sparta Boss's five.
The "Legendary Cup" tournament will continue today, Tuesday, February 7, at the same venue.
Tournament coordinator Wayne "Harry" Griffith had sparkling words about the tournament's opening night as he discussed the "Legendary Cup" thus far.
"The tournament has got off to an exciting start and is projected to improve with each playing night, as the teams vie for the coveted title. The opening night was incident-free and we hope to continue that trend of providing exciting action for the patrons. The teams have shown a willingness to compete and participate which is evident by the fact that several other teams have inquired about joining the event. Unfortunately, we can't increase the pool of teams at this moment, but this certainly bodes well for the future of the competition," Griffith shared.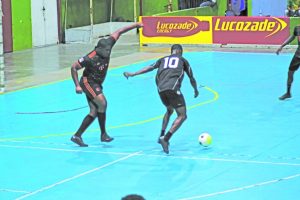 On the cards tonight is the opening clash between Stabroek Ballers and West Side at 19:45h, while Future Stars tackle Mocha Family at 20:30h. The experienced Bent Street and Gold is Money will also be in action in separate games.
Gold is Money take aim at Albouystown at 21:15h, while Bent Street tackle Vryheid's Lust later in the evening, at 23:30h.
The teams are vying for a $500,000 grand prize, while second, third and fourth place would pocket $250,000, $150,000 and $100,000. The other playing dates in the Rock Auto Trans and Spare Parts "Legendary Cup" are February 11, 14, and 18, with the grand final set for February 25.