Narayan Ramdhani extended his stellar run on the Canadian collegiate badminton circuit, once again placing first in the Alberta Colleges Athletic Conference (ACAC) Tournament #3 in men's singles and mixed doubles.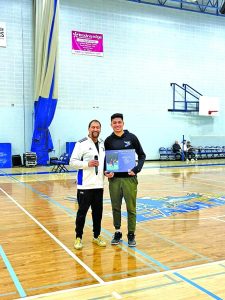 The Alberta Colleges Athletic Conference Tournament #3 was played on Sunday, February 5, 2023 at the King's University, Edmonton, Alberta, Canada.
Ramdhani, seeded #1 in the draw, gained a bye to the quarter-finals, where he played against Shepherd Dow and won 21-3, 21-6. In the semis, he came up against Davis Wong 21-8, 21-12, and advanced to the final, where he defeated once again Sanskar Chopra in a close match 21-16, 21-18.
In the mixed doubles category, he also gained the top spot when he partnered with Abby Ledda, his King's Eagles teammate.
An appreciation token was presented to Ramdhani by his Coach, Naeem Haque for his contribution to the King's badminton team for the past four years. This was Ramdhani's last game on home court (King's University) before graduating this coming semester.