By Brandon Corlette in Grenada
The Guyana Harpy Eagles are fresh from a 183-run win against Barbados Pride in round one of the West Indies Championships.
Head Coach of the Guyana team, Ryan Hercules is expecting a good challenge against Windward Islands Volcanoes when the second match bowls off in Grenada from February 8.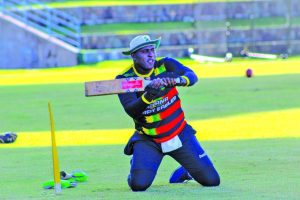 However, he highlighted the poor shot selection of some senior players while praising young Matthew Nandu, who scored a century on his First-Class debut.
As it relates to the mood in the camp, Hercules said: "Well, it is a happy one (mood), winning the first game against Barbados. We know there is always a bit of rivalry against Guyana and Barbados. Everyone is happy with the performance, finishing just before the stroke of tea throughout the last day. Lots of effort from the fast bowlers, putting in a lot of work today, to see we get past that hurdle, so the environment is pretty good, very friendly, and a hardworking one."
Nandu, who batted for 337 balls in more than 500 minutes during his maiden First-Class century, at 19 years old, has impressed many, including Coach Hercules.
"Matthew Nandu has been brilliant throughout the training we had back home coming into the team. He possesses that talent to spend time out there, hungry to get runs, which is very good, filling that spot up there with the absence of a Tagenarine Chanderpaul and Vishaul Singh. We wanted someone to show that calibre of patience, and I think he did that really exceptional for the first game. I am thinking he has a long way to go, so I am looking forward to see him bat for the rest of games.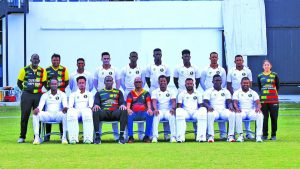 "The second innings we would have seen he got a bit bogged down, and lost his wicket, but it is a learning process for him. His Player of the Match innings would have set up the game for us to get a big score for us," Hercules added.
The likes of Leon Johnson, Anthony Bramble, Tevin Imlach, and Kemol Savory will have to step-up with the bat against Volcanoes. "We had some poor shot selection. Senior guys, we were expecting more from them. Imlach, Savory, Johnson, and Bramble. Some poor shot selections, but we have games like that. I hope we reflect. We would not let it go at the side, thinking we get the win and it is all fine. We need to get some work done there, when it comes to the senior guys getting some scores there. We don't look for one player to go out there and do well. We look at other guys to put their hands up. I want to see other players stepping up.
"I trust their talent, and the work we have been putting in. It is just for them to understand the situation and go out there and bat," the Essequibian Hercules explained.
Guyana are the only team to record a win, while the other matches resulted in drawn encounters. The Harpy Eagles have 20 points, while Trinidad and Tobago Red Force have 10.2 points. Windwards have 8.4 points, Leeward Islands (7.4), Jamaica Scorpions (6.2) and Barbados Pride(4.8).
Based on reports, and players' insights, the surface in Grenada is a flat one, and should be good for batting. On Monday, some early-morning showers passed over the island, and that will add some moisture to the surface.
Hercules noted that Guyana would assess conditions in Grenada, but anticipated a good challenge. "When we get there, we will assess conditions. Obviously, we would have shown a lot in this game. When you look at the fast-bowling department, the fast bowlers hit good areas and picked up good wickets And then [Veerasammy] Permaul and [Kevin] Sinclair would have backed up the pacers. From the batting department, we scored over 300 runs and had a bit of collapse in the second innings, but it will be a good challenge against Windwards when we get over Grenada," the Head Coach concluded.
First ball of the game tomorrow, Wednesday, February 8 against Windwards is set for 10:00h Eastern Caribbean time.
The Guyana Harpy Eagles squad: Leon Johnson (Captain); Veerasammy Permaul (Vice Captain); Chandrapaul Hemraj; Matthew Nandu; Kemol Savory; Tevin Imlach; Anthony Bramble; Kevin Sinclair; Nial Smith; Ronsford Beaton; Akshaya Persaud; Ashmead Nedd and Shamar Joseph. The Manager is Albert Clements; the Head Coach is Ryan Hercules; the Assistant Coach is Garvin Nedd; the Cricket Analyst is Keshava Ramphal, and the Physiotherapist is Angelica Holder.
Windward Islands Volcanoes squad: Alick Athanaze (Captain); Jerlani Robinson; Kavem Hodge; Keron Cottoy; Sunil Ambris; Justin Greaves; Tevyn Walcott; Kenneth Dember; Preston McSween; Teddy Bishop; Daurius Martin; Kimani Melius and Ryan John. Shirley Clarke is the Head Coach.