Guyana's Badminton team at the Caribbean Regional Badminton Confederation (CAREBACO) International Championships have begun their campaign on a positive note, with four semifinal appearances to be made later tonight.
The CAREBACO Championships present players with a platform to get better ratings, especially ahead of the 2020 Olympics.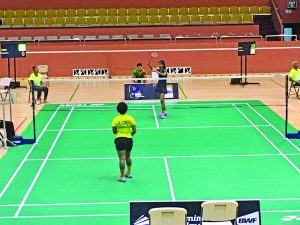 On day one of these under-19 championships, Guyana's Tyrese Jeffrey defeated Panama's Pedro Aguilar Gonzalez in a three-set encounter 21-17, 18-21 and 21-15.
Jeffrey later teamed up with Priyanna Ramdhani to take on Trinidad and Tobago's Dejaun Williams & Zharia Hinds in contending the mixed doubles, which the Guyanese pair won in straight sets 21-10, 21-8.
Guyana's first loss in the tournament came when Kennie King of Barbados defeated Akili Haynes 21-18, 21-12.
On day two, Guyana sealed 4 semifinal appearances with another set of exemplary performances. Although he fought valiantly, Guyanese Tyrese Jeffrey, having picked up a knee injury, lost the three-set thriller to Trinidad and Tobago's Leon Cassie 14-21, 21-19, 14-21.
Guyana's Priyanna Ramdhani advanced to the semis by making light work of Barbados's Robyn Sobers 21-6, 21-4.
Teaming up for the men's doubles, the Guyanese pair of Tyrese Jeffrey and Akili Haynes defeated Sean Butcher-Nurse and Alexander Price-Greaves of Barbados 21-10, 21-10.
The team of Guyanese Priyanna Ramdhani and Trinidad's Chequeda De Boulet overcame the Surinamese pair of Kayleigh Moenne and Faith Sariman 21-14, 21-5.
Guyana's presence will also grace the semifinals of the mixed doubles division, as Ramdhani and Jeffrey have recorded a victory over the Surinamese pair of Jair Naipal and Chaista Soemodipoero 19-21, 21-18, 21-16.
The semifinals were scheduled to be contested last night (Saturday evening) at the Garfield Sobers Gymnasium in St. Michael Barbados. Results were, however, not available up to press time for this publication.