– following Mahaicony robbery
A Calcutta, Mahaicony, East Coast Demerara resident was on Sunday evening apprehended by Police ranks minutes after he committed armed robbery on a couple at Burma, Mahaicony.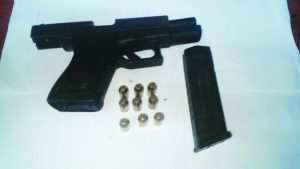 Based on reports received, the victims were relaxing under a benab at a popular fun park at Mahaicony when the lone gunman confronted them, and demanded cash and jewellery while brandishing a handgun.
The suspect relieved the couple of their mobile phones, an undisclosed sum of cash, and other valuables before fleeing the scene.
The traumatised victims made their way to the Mahaicony Police Station and reported the matter. Based on the description given, the Police went to the Recess Public Road where the suspect was arrested and positively identified by the victims.
Upon the suspect's arrest, he was found to be in possession of an unlicensed 9mm Glock Pistol and nine live rounds of ammunition. In addition, the other items were recovered except the cash. A ballistic test is being conducted on the firearm to ascertain if it was used in the commissioning of other crimes.
The suspect is being processed for court.