Botched East Coast robbery
– dead bandit identified as ex-prison officer
One bandit is now dead while his alleged accomplice remains injured following a brazen daylight robbery attempt on a businesswoman on Tuesday morning at the Railway Embankment, Liliendaal, East Coast Demerara, in the vicinity of the Giftland Mall junction.
Dead is 24-year-old Trydon Munroe, an ex-prison officer of East Canje, Berbice.
According to Crime Chief Wendell Blanhum, Munroe had been dismissed from the Prison Service after several breaches of the rules and regulations of the entity.
Guyana Times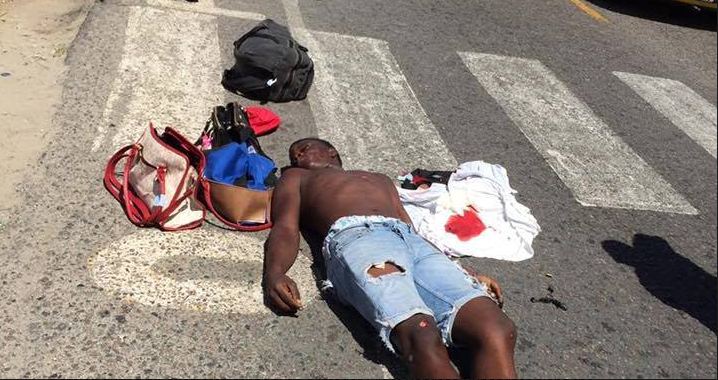 understands that at around 09:45h on the morning in question, a 42-year-old Interior Flight Services Supervisor and her security escort travelled to the Eugene F Correia International Airport to uplift a package containing valuables.
Reports indicate that as the woman, who was driving motor car PSS 664, approached the vicinity of the Giftland Mall junction, a dark coloured vehicle drove into her path, blocking her.
Immediately after coming to a halt, two men, brandishing weapons exited the vehicle and pounced on the businesswoman. However, Police say it appeared as though the perpetrators were unaware that the woman had a bodyguard accompanying her.
As such, it came as a shock when the armed security escort whipped out his weapon and fired several shots in the bandits' direction.
Munroe reportedly sustained three fatal wounds as a result of the bodyguard's retaliation. This publication was told that the 24-year-old collapsed in the middle of the road, unconscious.
His accomplice, who reportedly sustained one gunshot wound to his left abdomen, managed to flee the scene on foot, after the motorcar with which the duo arrived in, sped away almost immediately after the exchange of gunfire.
Police were able to apprehend the man believed to be Munroe's accomplice, after officials from the Georgetown Public Hospital reported that a 23-year-old resident of One Mile, Linden, had checked into the medical facility to be treated for a gunshot wound.
As such, the man was given medical attention under Police guard.
Munroe's lifeless body was found by detectives near a .32 pistol along with three live matching rounds. Investigations are ongoing.