ꟷ suspect ingests poison after committing act
A 22-year-old employee attached to Republic Bank is now battling for her life after she was stabbed to the neck with a knife by her husband who subsequently consumed a poisonous substance.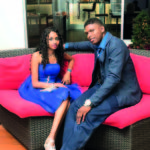 The stabbing reportedly took place on Thursday evening in a church yard on Timehri Base Road, East Bank Demerara.
The 24-year-old man, identified as Clifton Richmond also called "Steve", is currently in a critical condition at the Georgetown Public Hospital.
The victim, Sheria Khalil also called "Sherry" a teller at the banking institution is also critical.
Reports are that Khalil and her husband had an arrangement to meet at her place of employment at about 09:30h on Thursday night. The man, who is a minibus conductor, finished working and went to meet his wife but she was not at her office.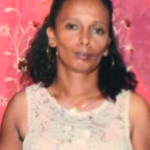 He reportedly returned to their Lot 25 Timehri Public Road, East Bank Demerara (EBD) home but she was not at home.
However, at about 21:15h, Khalil disembarked a route 42 minibus. Richmond, who was in the yard, went to greet his wife on the public road but that turned into an argument.
During the argument, Richmond lifted his wife off the ground and took her into the nearby Elim Christian Fellowship Churchyard.
Khalil's family reported that they heard her screams and rushed to that location where they noticed the 22-year-old bleeding profusely from a stab wound at the left side of her neck.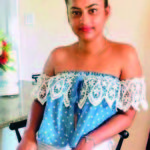 Upon realising that his in-laws had arrived at the crime scene, Richmond then allegedly consumed a poisonous substance and jumped into the Demerara River.
He was subsequently taken out of the water in an unconscious state.
Both Khalil and Richmond were rushed to the Diamond Diagnostics Centre where they were treated but due to the severity of Khalil's injury, she was transferred to the Georgetown Public Hospital Corporation (GPHC) for emergency surgery.
Meanwhile, a knife and bottle with suspected poison were retrieved by Police ranks from the Elim Christian Fellowship Churchyard. An investigation was launched into the incident.
On Friday, last, a Corentyne man committed suicide at his family's Lot 426 Bush Lot Village, Corentyne, Berbice home, after first attempting to kill his wife.
The woman, Nalicia Ragoonauth, 24, a mother of one, of Bush Lot Village, Corentyne, Berbice, was in a critical condition in the New Amsterdam Hospital before being discharged after she was chopped to her neck, wrist and forearms by her reputed husband.
It was reported that the 27-year-old Ganesh Narine, a carpenter, dealt his wife several chops to her body with a cutlass just before he grabbed a length of rope and hanged himself on a beam in the bedroom of the house.
The incident reportedly occurred after the man and his wife returned home from a birthday celebration.
One day prior, a 16-year-old girl and her two younger brothers witnessed their father delivering fatal stabs to their mother's neck and body in their Cane Grove, East Coast Demerara (ECD) home.
Forty-four-year-old mother, Somattie Keosoram, died before she arrived at the Mahaicony Cottage hospital, ECD.
In this case, it was reported that Keosoram's husband, identified as 56-year-old Terrence Jackson, arrived home from work on Thursday, intoxicated, and an argument commenced between the couple.
After committing the act, Jackson went into hiding but hours after, Police arrested the man who had been in the process of committing suicide at a backdam in the Cane Grove village. (Kristen Macklingam)