In an effort to highlight the roles and functions of the Foreign Service in Guyana as well as showcase cultures from around the world, the Foreign Affairs Minister on Friday hosted a diplomatic fair.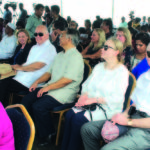 The event was held at D'Urban Park in Georgetown and saw participation from several foreign missions and international organisations that are residents here. The Foreign Affairs Ministry is aiming to demystify the Diplomatic Service.
The diplomatic fair also served as a curtain-raiser to the month of activities planned to commemorate Guyana's 50th Republic Day Anniversary in February.
Speaking at the opening ceremony, Foreign Secretary Carl Greenidge stated that the importance of Guyana becoming a Republic cannot be overstated and is certainly worthy of celebration.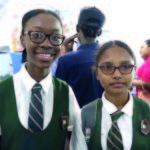 "That republican status bestows upon a nation and its people great power but also great responsibility. The freedom from the rule of a monarch, the promise of self-governance and the ability to forge our own path of prosperity are key in this, and it is with this in mind that the Government felt it crucial to deservedly and appropriately commemorate our Republic Jubilee not just on the 23rd of February but with a month of events," he posited.
According to Greenidge, it is against this backdrop that the Foreign Affairs Ministry decided to make its own contribution by giving the public a window into the world of diplomacy and into the work of the ministry, diplomatic missions and international organisations here.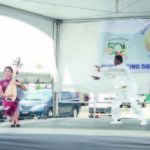 "It is our hope that this event will serve to educate the public on the important role of the diplomatic service and will even give our young people that ability to envisage themselves in a career they might have thought not within their reach. I'm also delighted that this event will also provide a glimpse into the rich cultures of nations across every region of our globe," he noted.
Friday's diplomatic fair was lauded by many of the heads of foreign missions here in Guyana as well as international organisations. Many of them had materials on their work in Guyana along with their native food and drink, among other things, on display.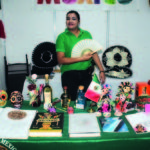 "For us, this is great opportunity to showcase the various level of cooperation between India and Guyana. But at the same time, this is also showcasing the functions of any embassy or any High Commission in Guyana. It's a great educative experience because, as you can see, all the embassies accredited to Guyana are participating. They are showcasing their culture, their traditional wear and also their food," the High Commissioner of India to Guyana, Dr K J Srinivasa, said.
Additionally, the fair also allowed foreign missions to highlight some of the projects and programmes they have available to benefit Guyanese. In fact, United States Ambassador to Guyana, Sarah-Ann Lynch, told Guyana Times that persons have shown keen interests in the work of the embassy.
"We've been getting quite a few questions on US commercial interests in Guyana. Now with the incredible oil discoveries, there is a lot of interest on behalf of potential investors. A lot of people are asking about programmes in terms of governance, assistance and economic development. We've been getting a lot of questions about our Peace Corps programme… We're getting a lot of questions about some scholarship programmes. So people are learning about some leadership activities that we have that they can apply for, learning a little bit about US universities and colleges…," Ambassador Lynch stated while adding that there were also questions, naturally, about the visa process.
Meanwhile, some of the lesser-known missions are hoping to use this opportunity to highlight their countries and peak the interests of Guyanese.
"We are trying to let people know that there is an Embassy of Argentina because not a lot of people know that there is one. We are trying to promote Argentine tourism and business in different sectors. Also, we are also promoting our wine and some of our dishes so people can get a little understanding of certain things in Argentina," representative from the Argentine Embassy, Moallim Kareem, related.
Another such foreign mission keen on educating Guyanese about their country and culture is Indonesia – which has non-resident accreditation status here. The Indonesian Embassy in Suriname has oversight of bilateral relations with Guyana.
"Basically, we are showing our existence in Guyana since I believe that the name of Indonesia is not too familiar with the Guyanese public. So that is why we are here with our tourist broachers and pamphlets, as well as samples of our snacks. We want the public to know about Indonesian culture a little bit and for them to know too that Bali is part of Indonesia, not the other way around," Hanggorono Nurcahyo, a Counsellor at the Indonesia Embassy in Suriname, stated.
Friday's diplomatic fair was well-attended, particularly by young Guyanese, including students.
Two fourth-form students from Bishops' High School told this newspaper that the fair was not only eye-opening but also educative.
"It's been a learning experience for us because we have visited, like the Trinidad and Tobago booth and they taught us the University [of West Indies] etc. We have visited a numerous set of booths and its basically teaching us about their cultures and diversity, which we are happy to learn about," Ms Wright stated.
Adding to this, Ms Sanicharra said that, "visiting the different booths caused me to have an open mind and its inspiring because I've always had my mind made up on one country or one place that I wanted to go to further my education but now that I've been exposed to a wide variety of places, and scholarships and colleges, I have a better opportunity to make a smarter decision".
In addition to the exhibition, the one-day fair also included cultural performances from the various foreign missions as well as local artistes.