Banks DIH Limited has continued its support for the Inter Guiana Games when officials of the company presented a sponsorship package to the National Sports Commission ahead of the Games in Guyana this weekend.
Banks DIH will provide Rainforest Water and Powerade, a sports drink with electrolytes for the athletes and officials participating in the Games set for Friday to Sunday.
Water Beverage Brand Manager Clive Pellew made the presentation to Assistant Director of Sport Brian Smith during a simple ceremony at the NSC Office on Homestretch Avenue. Also present were Errol Nelson Band Manager of Banks DIH and R. Sooklall, Accountant of the NSC.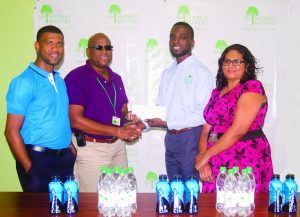 Student athletes from Guyana, French Guiana and Suriname will compete at basketball, volleyball, badminton, futsal football, table tennis, swimming and track and field.
Smith thanked Banks DIH for supporting the annual Games which started back in 1967 and involved the three neighbouring territories that comprise the Guianas.