The Guyana Telephone and Telegraph Company (GTT) in collaboration with partnering companies, have distributed 42 self-care vouchers to cancer survivors, cancer patients and caregivers of the patients.
According to GTT's Pinktober Coordinator, Diana Gittens, the outreach was part of GTT's Pinktober's first "Live Aware, Live Beautiful" initiative. Patients were selected by the GPHC oncology unit.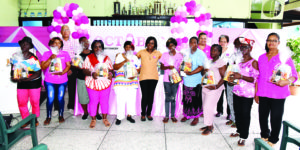 Persons receiving the voucher will benefit from a grand makeover as vouchers include a full spa treatment by Milady's Beauty Salon, Milani's makeup by Gizmos and Gadgets, full dental cleaning by Jagan's Dental Centre and food basket supplies.
"Being recognised by persons who are not of your immediate home circle or friends, and to know there are strangers out there who care enough to give back, hopefully, adds to feelings of satisfaction, worth and value. I believe this initiative was able to help these persons feel more valued and appreciated," Gittens explained.

In addition, GTT has a number of activities planned for Pinktober 2019, with the intention to promote cancer awareness in Guyana. The last event will be the 5K/10K walk, which will be held on Saturday.
Meanwhile, beverage giant Banks DIH Limited also hosted a Breast Cancer Awareness programme for employees and cancer patients/survivors on Monday at the Sports Club, Thirst Park.
Speaking at the programme, Oncologist Dr Latoya Gooding of the Giving Hope Foundation, in delivering her feature address, urged women to seek early screening to ensure they are cancer-free.
"You can overcome cancer, and some survivors of the disease are now living their best lives following treatment. However, early detection is necessary," she stated.
Dr Gooding further note that younger women, and a percentage of men, are also being diagnosed with the illness, as she provided participants with information on the risk, treatment and recovery of the disease.
Meanwhile, Human Resources Director Andrew Carto noted that the awareness session was timely as more women are becoming mindful of the threat of breast cancer.
In addition, 16 cancer patients/survivors attached to Georgetown Public Hospital Corporation (GPHC) Oncology Clinic, Cancer Institute of Guyana and the Giving Hope Foundation were presented with hampers and monetary donations by the Company.
As part of the activities planned for Breast Cancer Awareness Month, the company partnered with Citizens Bank Inc for a two-day Golf Tournament at Lusignan Golf Club on the East Coast of Demerara on Saturday, while on Sunday, New Amsterdam Qik Serv hosted over 60 bikers of the Assassin Biker Club in an awareness campaign named "Bikers against Breast Cancer".
The bikers rode from Georgetown to New Amsterdam and later joined racing cyclists in Berbice in lap of honour around the township before releasing balloons into the air as a sign of hope.